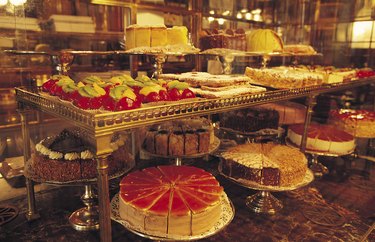 A chocolatier closely resembles a chef or cook, but specializes in the creation of deserts, particularly chocolate. There are several large companies which create and distribute chocolate and are well-known by the public. However, there are also many smaller commercial enterprises throughout the United States. Each of these companies needs a chocolatier to direct and determine how the company makes the chocolate and the ingredients that go into each flavor.
Salary
The average salary for a chocolatier in the United States is $21,000 as of July 2011, according to Simply Hired. However, this number can vary greatly based upon location, experience and company. A chocolatier who also performs duties as a head cook or chef averages a salary of $44,780 or an hourly wage of $21.53 in these same years. If a chocolatier decides to open his own business, his salary is dependent upon the profitability of the business.
Skills and Education
Generally, only a high school diploma or associate's degree is required to become a chocolatier. However, you must also study culinary arts either through a culinary education program or as an apprentice to gain greater knowledge. Becoming a chocolatier requires a knowledge of cooking appliances and equipment, the tastes of various types of food and even some chemistry.
Corporate versus Independent Employers
Employment by a corporation such as Godiva, Hershey's or See's may offer a great range of fringe benefits, but growth within the company is generally limited for a chocolatier. This means that your salary is often limited. Chocolatiers who branch out to include a working knowledge of other types of foods may eventually reach the position of head chef, even within a corporate chain of restaurants. However, a chocolatier who begins with an independent organization, such as Jacques Torres, look forward to strong growth potential and earnings.
Comparison of Salary by State
The average salary of a chocolatier varies from state to state largely due to differences in demand and living costs. For example, the average salary in New York is $27,000 per year, whereas in Kohler, Wisconsin, it is $21,000. In North Carolina, the average salary for this career is $19,000, whereas in Indiana it is $20,000. In California, the average is $24,000 per year.