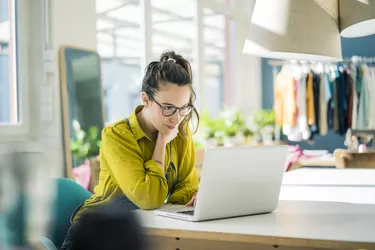 Etisalat Group is a multinational telecommunications corporation that operates across the Middle East, Africa and Asia, providing phone, internet, Wi-Fi and e-payment services to 141 million customers. If you have one of the company's prepaid or postpaid mobile phones, it's easy to transfer credit to friends or family members who also have an Etisalat mobile plan. Several different methods are provided to transfer credit in Etisalat, including through its mobile app and by using mobile key codes.
My Etisalat UAE App
Etisalat provides the My Etisalat UAE mobile app to help customers check data usage, view and make payments and shop for new services. The app also allows you to share credit on the go using the Etisalat Credit Transfer service. You can download the app from either the Apple App Store or Google Play, depending on the type of phone you have. If you decide not to download the app, you can still transfer credit using your phone's keypad.
Etisalat Normal Credit Transfer
No special registration is needed for credit transfer if you already have a prepaid or postpaid Etisalat mobile phone. To make a normal credit transfer from your phone, go to the phone app and type 100Mobile NumberAmount# and then press OK. For example, to transfer AED 10, type *10005XXXXXXXX*10#. After a transfer has completed successfully, you should receive a confirmation message from Etisalat. You will be asked to acknowledge the message by pressing 1 to confirm the transaction or 2 to cancel.
For postpaid accounts, the minimum amount of credit you can transfer per call is AED 2 and the maximum is AED 150. There is an AED 500 monthly maximum for postpaid credit transfers. For prepaid accounts, the minimum and maximum transfer amounts are also AED 2 and AED 150 respectively. The monthly maximum is AED 1500.
Etisalat Secure Credit Transfer
There was a time in the past when a separate process was used to initiate a secure credit transfer through Etisalat. That process involved sending a text message with the word "ctpin" to 1010, then waiting for a personalized, secure PIN to be sent in a return message. Etisalat normal credit transfers are now advertised as secure and this additional process has been dropped.
Etisalat Credit Transfer Fee
For both postpaid and prepaid normal credit transfers, a 5.25 percent transaction fee will be deducted from the sender, along with the amount of the credit transfer. So if AED 100 is being transferred, AED 100 + AED 5.25 (total AED 105.25) will be deducted from the sender. The receiver will get AED 100.
Etisalat International Credit Transfer
International credit can be transferred through Etisalat by typing Dial100# into the keypad and pressing OK. Then follow the instructions that are returned. You can also type in *100International Number# and follow the returned instructions. A third alternative is to text the international number to 1700 and then follow the instructions. Recipients receive the credit immediately, along with a text message notifying them of the transfer.
Request for Credit
Customers with Etisalat prepaid accounts can request credit from other customers by typing 10705Mobile Number*Amount# and then press OK. A message saying you are asking for credit will be sent to the other mobile number, along with instructions for completing the transaction. This service is free of charge and can be used up to two times per day.
Etisalat Recharge Code UAE
There are a variety of ways to recharge a prepaid Etisalat account. The My Etisalat UAE app allows you to recharge directly, or you can sign in to the Etisalat website and recharge quickly by entering your mobile number, the amount you wish to purchase and a debit or credit card number. You can also purchase an Etisalat recharge card or eVoucher from an Etisalat partner retail outlet and then recharge by dialing the recharge code 120 on your phone followed by the recharge card number.