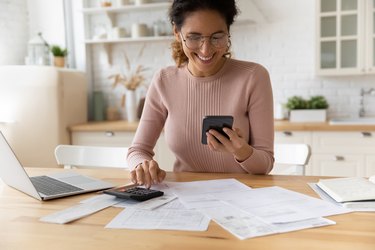 PayPal is an online money service that allows clients to electronically transfer funds to the accounts of others. The site permits users to send and receive money without dealing with back accounts, thus protecting information such as bank routing and account numbers. Users can withdraw money by transferring it to a bank account or through other means. Though PayPal is not a bank, it allows users to connect accounts to bank accounts and spend on credit.
Linking PayPal to a Bank Account
PayPal allows users to link their accounts directly to a bank account. When PayPal links to a checking account, it deposits money directly into that account via electronic transfer. This money then becomes available in the debit account of the user. PayPal does not allow users to transfer funds not available in an account to a bank account, meaning the direct link between a PayPal account and a checking account cannot be used as a line of credit. All transfers must be completed manually. The company sends physical checks to users for a fee of $1.50, as of the date of publication.
PayPal offers a debit card in conjunction with MasterCard. This card allows users to withdraw money from a PayPal account from any ATM worldwide and can be used at any point of sale accepting MasterCard. The funds for the PayPal debit card come directly from the account of the user. If a user wishes to spend more money than a PayPal account holds, that user may connect the PayPal debit card to a bank account. This protects users from overdrafts or potentially denied purchases. The PayPal MasterCard can connect to a debit account, though does not provide a line of credit to users.
PayPal offers a credit card to users, also in conjunction with MasterCard. This card works just like a regular credit card. It extends a predetermined line of credit to users and offers points on the purchase of certain items. The PayPal MasterCard allows users to withdraw cash from PayPal accounts at ATMs and make payments on the card directly from a PayPal account. The PayPal credit card does not allow users to connect the line of credit extended by the card to any other line of credit such as a debit card account.
PayPal Smart Connect constitutes a line of credit available to PayPal members. Site members sign up for Smart Connect through their accounts. PayPal must approve users for the service. Once approved, users may purchase items on credit from their PayPal accounts. The company specifies the amount of credit available to each Smart Connect approved member upon approving individuals for the program. Users cannot connect the Smart Connect credit line to a debit or credit card; all credit purchases are billed directly to an individual's PayPal account and must be purchased through that account.
Shopping Online with PayPal
PayPal users have the option of purchasing items online through PayPal accounts without the use of Smart Connect or a PayPal debit or credit card. Certain websites connect to PayPal, so that when a user purchases an item, that user enters his or her PayPal account information and the site withdraws payment directly from the account. Users without funds in their accounts cannot use this function. Purchasing items in this manner circumvents the need for a credit or debit card or bank account when making online purchases.