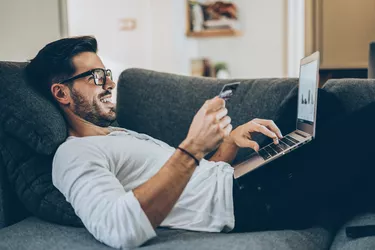 Founded in 1994, ICICI Bank has 5,266 branches and 14,136 ATMs across India. Its customers can choose from an extensive list of prepaid cards and debit cards, as well as other financial services, such as virtual cards. An ICICI virtual credit card makes it easier to shop online and can reduce the risk of fraudulent transactions. The same goes for virtual debit cards.
Tip
ICICI Bank provides its customers with virtual debit and credit cards. To get a virtual debit card, it's necessary to sign up for a savings account (which also includes a physical card) and activate your card via the iMobile Pay app.
Depending on your needs, you may use a virtual card to pay your bills, buy movie tickets, make investments or purchase everyday things over the internet. This service is free and comes as an add-on to a physical credit card.
ICICI Virtual Credit Card Basics
ICICI Bank offers virtual debit and credit cards as a digital alternative to physical payment cards. With this service, customers can make safe, secure online payments without having to worry about skimming and other types of credit card fraud. When you sign up for a virtual credit card, you must set a maximum credit limit. Likewise, you can set a spending limit on your virtual debit card. This means that even if someone steals your card information, they can only spend what's on the card.
If, say, you want to buy a ​$400​ laptop online, you can transfer ​$400​ from your primary debit card to a virtual card. Once the transaction is completed, it will appear on your primary debit card statement. Next, you can continue to use your virtual card or cancel it and request a new one from your online or mobile banking account. Either way, merchants cannot trace the virtual card number back to the primary account.
Fraudulent transactions account for nearly one-third of online sales each year, according to American Express. The same source reports that about 50 percent of consumers have been victims of debit or credit card fraud. Considering these risks, it makes sense to use a virtual payment card.
If you have a physical debit or credit card from ICICI Bank, you can request a virtual card via iMobile Pay. The ICICI Bank virtual debit card is available to all customers holding a Mine Savings Account or an Insta Save Account. The Mine Savings Account includes a regular debit card, online banking services, free email statements and cashback offers. You will have access to a virtual debit card as soon as you open an account. This service is available to all customers between 18 and 35 years old.
Another option is the Insta Save Account, a fully digital service. Customers can apply online and start using their accounts instantly. After registration, you can access your virtual debit card via the iMobile Pay app. Users also receive a physical debit card, a checkbook and reward points.
Remember that you can also apply for an ICICI virtual credit card. This service is free and can be used for online transactions only. If you live in the U.S. or Europe, you may order a virtual debit card from Skrill, Wise, Monese, Stripe, N26 or Revolut. Citi and other banks offer similar options. For example, Citi customers can request and use randomly generated virtual account numbers when shopping online.