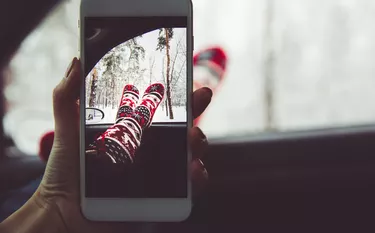 You can transfer a Verizon Wireless account to somebody else under certain circumstances. That person will then be liable for the payment of the bill for service, so a Verizon Wireless transfer of service is sometimes also called an assumption of liability by the person taking over the number. You will need to make sure the bill is paid on your Verizon number to release a line to someone else and decide whether that person is taking over payments for the phone as well.
Verizon Wireless Transfer of Service
You can initiate a Verizon assumption of liability for a number as long as you have had it for at least 30 days for a personal account or five days for a business account. You must also make sure any outstanding balance on the account is paid. You can either pay off any balance remaining on your phone itself or allow the other person to take over payments for your phone. If the other person cannot do so for some reason, you will need to either pay off the phone or continue paying Verizon for it after transferring the line.
Once those requirements are met, visit the Verizon website or app and provide the email address and full first and last name of the person taking over your account. Fill out the online transfer authorization form on the website or app. This authorization will be valid for 15 days for a personal account or 30 days for a business account.
The account recipient will get an email to complete the process. That person must be at least 18 years old in most states and 19 in Alabama, where that is the age of majority.
Taking Over a Verizon Account
If you're the person taking over a Verizon Wireless account, you'll need to set up an account on the My Verizon website. If you're merging the account with an existing Verizon account you have, you'll also need to make sure your balance is paid off on the existing account.
Once the person transferring the account fills out the online paperwork, look for an email telling you how to proceed. You'll usually need to sign in to the Verizon online system, undergo a credit check and then read and agree to the Verizon terms. Depending on the credit check results, you may need to come up with a security deposit or pay off any balance due on the phone, if you are also taking responsibility for payments on a phone attached to the plan.
You'll also need to choose from the set of current, compatible Verizon Wireless plans. You usually can't keep any outdated plans or features associated with the account.
While your first month bill may be prorated if you don't take over precisely at the start of the billing cycle, you should have a full month's allotment of minutes, data and texts for that partial month. Take a look at your first bill when it makes sense and verify it matches your expectations and plan choices.
Transferring Your Phone to Someone
If you are transferring your physical phone to someone as well as your plan, you may want to make sure to remove your personal information from the phone. That will ensure the new owner won't have access to your information and that the phone won't pop up notifications meant for you.
You will likely want to take this step right before you turn the phone over to the other person. If you are also getting a new phone for yourself, you may want to transfer the information to the new phone and verify it is working correctly before erasing your old phone.
Back up any important data on your phone or verify that it is already saved elsewhere, such as on your computer, on your new phone or in cloud-based databases. Then, follow the instructions from your phone or operating system maker to erase and factory reset your phone. If you're not sure how to do this, contact Verizon or the phone or operating system maker for help.