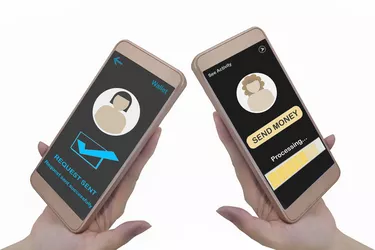 The U.S.-to-Mexico money transfer pipeline has the largest volume in the world, with over $30 billion flowing into Mexico in 2017. Grupo Elektra is a leading financial services provider in Latin America that focuses on making it easy for customers in Mexico to receive funds in cash, a good option when your loved ones don't have bank accounts. Hundreds of Elektra money transfer locations across Mexico make it convenient for customers to receive money sent via Western Union, MoneyGram and other money transfer services.
Send Money to Mexico With Elektra
When you set up a money transfer to Mexico, check to see if the transfer service allows you to have your funds sent to an Elektra location, where your family or friends can pick up cash. If so, let the receiver know the transaction number for the transfer. The receiver should then visit one of the Elektra pickup locations, which are open seven days a week, from 9 a.m. to 9 p.m. If the wire transfer has been completed, the receiver is given the funds in cash after giving the transaction number and showing photo identification, such as a passport and proof of address.
Initiating Money Transfer to Mexico
Western Union is one of oldest providers of money transfer services, with retail locations in grocery stores, convenience stores and banks. You can initiate a money transfer by visiting a retail location or through the Western Union website at WesternUnion.com, where you can use a credit card or debit card to deposit money for transfers. You can also lock in the exchange rate for a transfer on the website and then visit a participating retail location to provide the funds for transfer.
MoneyGram is another popular retailer for money transfer to Mexico via Elektra. The company has more than 19,000 service locations in Mexico, inside CVS drug stores, Walmart stores, grocery stores and payday advance stores. Up to $10,000 can be sent through online transfers and in some cases picked up by the intended receiver in as little as one hour.
Transfers From Xoom.com to Mexico
Xoom is a PayPal service founded in 2001 that allows you to send money to more than 900 Elektra locations in Mexico. This is probably one of the quickest ways to transfer up to $2,999. Once the money is sent through the Xoom.com website, it's typically available for pick up at an Elektra location within five minutes. Xoom offers a money-back guarantee that transferred money will arrive on time.
Transferring Money to Mexico Fees
The fees for money transfers to Mexico are typically less than $10. Charges may be added by a transfer company for additional services like fast delivery or using a credit card for the transaction.
When transferring money through Xoom, it's generally cheaper to send money from a bank account instead of using a debit or credit card. Sending $1,000 for cash pickup costs $4.99 when initiated from a bank account or $24.99 when using a debit or credit.
When transferring money through MoneyGram, the fee to send $1,000 to Mexico is $3.99 when using a bank account for payment. That fee drops to just 99 cents when a debit or credit card is used. The fee for using cash for the transfer varies by location.
Are Online Money Transfers Secure?
When you use a major commercial service like Western Union, MoneyGram or Xoom for money transfers to Mexico, your personal information and money are protected by the same type of encryption technology used by banks. These services are regulated by the U.S. federal government and by state agencies. If you decide to transfer money using a smaller or lesser-known company, make sure they offer the same level of security as well-known providers.