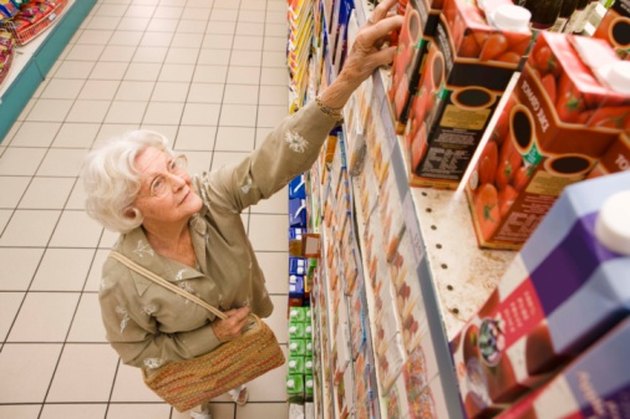 Growing old can result in financial perks beyond the commonly offered senior discount in restaurants. Retailers nationwide discount merchandise for senior shoppers, and many organizations give their senior members discounts on a variety of goods and services. The age to receive these discounts varies; sometimes, individuals as young as 50 can take advantage of senior discounts.
Organizational Discounts
Senior citizen organizations provide members with access to a variety of discounts nationwide. The National Association of Senior Citizens, for example, offers group discounts with a number of vendors. For example, the Ohio Valley Chapter of this national organization has negotiated discounts with local restaurants, pharmacies and funeral homes. AARP members nationwide can access senior-citizen discounts on everything from travel resources, such as car rentals and hotel rooms, to prescription drugs, eyeglasses and gym memberships.
State-Offered Discounts
Some states offer senior residents discounts on programs and services. The Georgia Public Service Commission, for example, reserves its senior-citizen discounts for individuals with low monthly incomes. These senior citizens can qualify for lower rates on their electric, natural gas and telephone bills. The Delaware River Port Authority sponsors the Senior Citizen Bridge Discount Program, which allows senior citizens to pay reduced rates to cross toll bridges throughout the state.
Retail Discounts
Many national and local retailers offer discounts to attract senior customers. National chains like Rite Aid and Kohl's offer discounts ranging from 15 percent to 20 percent off on certain days of the week or special senior-citizen discount days. Some retailers expect seniors to sign up for a loyalty or membership club to earn the discount; others simply require photo identification to confirm the consumer's age and provide the discount.
Service Discounts
Seniors citizens can snag healthy discounts on a range of services as well, not just when they're doing their day-to-day shopping. Amtrak provides 15 percent off on all fares for travelers who are 65 or older. Many tax preparation organizations offer reduced rates to older clients. Senior citizens can also find discounts on elder-care services such as home health care, assisted-living facilities and hearing aids.