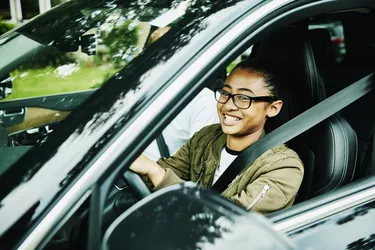 Finding the best loans for teens can be difficult given the limited number of options available. Most banks and credit unions will require a co-signer, especially for personal or auto loans. Alternatively, teenagers may apply for federal or private student loans, which often have lower rates than traditional loans. If you only need a small amount of money, you may be better off getting a credit card or asking your parents for help.
The average American has more than ​$90,000​ in debt, reports CNBC. Young people age 18 to 23 owe about ​$9,600​, while those age 24 to 39 carry nearly ​$80,000​ in debt. Given these aspects, it makes sense to think twice before applying for a loan. Underage teens can get a car loan with a co-signer, but they must still pay off their debt on time. Consider your future needs too; chances are you may need a student loan at some point, and the debt can add up quickly.
Getting a car loan requires signing a legally binding agreement. Young people under the age of 18 can enter into a contract, but the contract is voidable, meaning that it can be canceled by the minor. Additionally, most teens have no credit history, which makes it hard to determine their ability to pay back a loan. For these reasons, lenders typically require a co-signer when giving out loans to teenagers.
In general, credit unions have more flexible terms than traditional banks. For example, SCE Federal Credit Union offers teen auto loans of up to ​$25,000​. Teenagers as young as 16 may apply, but they must have a co-signer with good credit. Heritage South Community, First Source and Thrive Credit Union have similar requirements. If you're a parent or legal guardian, you'll need to join a credit union before co-signing a loan for your teen.
Personal Loans for Young People
A personal loan would allow your teen to start a small business or buy something he needs, such as a laptop or tablet. The problem is that most banks don't offer personal loans for 15-year-olds and teenagers in general. Your best option is to borrow from a credit union.
Advantis Credit Union, for instance, can lend you up to ​$3,000​ for whatever you need, whether it's a new smartphone, computer or bike. The loan must be paid back within three years and comes with fixed interest rates. Teenagers under 18 must go to a local branch and have a parent co-sign the loan. If you're over 18, you may apply online, by phone or via online banking.
Alternatively, you can ask your parents to take out a loan from their credit union. Alliant Credit Union, for example, offers personal loans of up to ​$50,000​ with a repayment period of one to five years. Members are not charged prepayment fees and may receive the funds the same day they apply.
Federal or Private Student Loans
If your child is heading to college, she may apply for a student loan to cover the costs. With federal student loans, you can borrow anywhere between ​$5,500​ and ​$20,500​ per year depending on the type of degree you seek and whether the loan is subsidized or unsubsidized, explains the U.S. Department of Education. There is also the option to apply for a direct consolidation loan if you have two or more student loans.
Generally, private student loans are easier to obtain than federal loans, but the rates may be higher. These are available through banks, credit unions and other lenders. For example, Rhode Island Student Loan Authority offers undergraduate loans of ​$1,500​ to ​$45,000​ per year with fixed interest rates. Students must have a minimum annual income of ​$40,000​ to qualify for the loan, but they may bring a co-signer on board.
Another option is to apply for a Direct Plus Loan, which is a type of federal loan that parents can take out to cover their child's school expenses. If your teenager is under 18 years old, you may resort to this solution to help him with his education. The loan has a fixed interest rate (7.54 percent) and offers three repayment plans, including one that allows you to pay off the debt over a longer period.