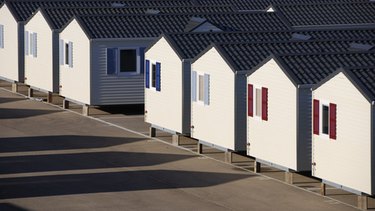 Financing a park model home is not as difficult as it used to be. There are more options and mortgage banks to handle these highly specialized loans. Many banks view these homes as personal property that is movable and not a traditional fixed real estate asset. Knowing the type of property and foundation determines the loan for which you qualify. These types of houses are attractive because of their affordability.
Options for Park Model Home Financing
Step 1
Identify a mortgage broker or banker who will write a loan for a park model home. Be aware that only certain banks will fund the loans as these homes are not considered fixed assets. Make sure the broker or banker is licensed in your state to write mortgages for park model homes.
Step 2
Determine the type of loan that fits you best. Consider a mobile home mortgage loan if your park model home sits on a permanent foundation. Seek a personal property loan if your home is on a rented lot. Be aware that the interest rate on a personal property loan is usually a bit higher, but it is an easier loan to qualify for than a traditional mortgage. Be aware that if the home is a permanent-foundation type it is possible to find a zero down payment mortgage, but if the house is on a rented lot it likely will require at least a 10 percent down payment.
Step 3
Use the Internet to shop around among several mortgage sources. See if you can find a program that better fits your needs, including those that allow you to borrow for land or lot improvements even if you don't know where your home will be situated.
Tip
Consult an attorney to represent your interests in a park model home or any real estate purchase. It is important to protect your rights and understand what you are signing.
Warning
Make sure you are dealing with a reputable mortgage broker or banker. Review all terms and conditions before agreeing to a mortgage or purchasing a park model home.