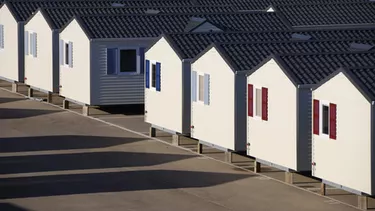 A growing number of consumers are seeking park model financing. Business Insider reports that millions of Americans would consider buying a tiny home as an investment or for personal use. Park model homes are slightly different from tiny homes, but they offer many of the same perks. Besides their affordability, they're sustainable, efficient and easy to maintain.
Tip
If you're interested in buying a park model home, you may apply for a personal loan, a recreational vehicle loan or a chattel mortgage. Another option is to look for park model manufacturers that provide financing.
Park model homes are classified as recreational vehicles (RVs), explains the RV Industry Association. What differentiates them from traditional RVs is their size. A typical park model home can be up to 15 feet wide and 26 feet long, meaning that it offers more space than an RV. Plus, it may have a roof, porch, deck and other amenities. If you're interested in this type of housing, you'll need to look beyond traditional banks.
Park model homes are not regulated by the Department of Housing and Urban Development and, therefore, may not be used as permanent residences. Their role is to provide temporary accommodation for campers, travelers and those looking to have a home away from home, according to the RV Industry Association. For this reason, you cannot take out a conventional mortgage to cover the cost of a park model RV.
One solution is to apply for a personal loan. This type of financing has lower initial costs than a mortgage, but it's more expensive in the long run. Interest rates vary between 10 and 28 percent, depending on your credit score, debt-to-income ratio, income, employment status, loan amount and other factors. A mobile home loan would cost less, but this option isn't available for park model RVs.
Some banks offer chattel mortgages, which can be used for the purchase of movable personal property. In this case, you would have to use your park model RV as collateral. If, for some reason, you fail to pay back the loan, the lender can seize your property. The Consumer Financial Protection Bureau reports that chattel loans account for over 40 percent of all manufactured home purchase loans. Park model RVs are considered movable property, so you may be able to secure financing.
Another option is to apply for a recreational vehicle loan. Generally, RV loans are more widely available than chattel loans and have lower interest rates than personal loans. U.S. Bank, for example, offers RV loans of up to ​$150,000​; the annual percentage rate, or APR, starts at 5.24 percent. Similar options are available at Southeast Financial, SunTrust, Mountain America Credit Union and Alliant. Credit unions typically charge lower interest fees than most banks.
Alternative Park Model Financing Options
Banks and credit unions are not your only options. Go online and look for park home finance companies that allow customers to pay in installments. Some may also work with private lenders to help their clients get lower rates.
Pinnacle Park Homes, for example, offers financing through a network of private lenders. Resort Park Model Sales, a Minnesota-based company that operates four campground resorts, can help its clients get ​$10,000​ to ​$100,000​. The loan must be repaid within 15 years.
Another option is Kaiser Finance, which offers park model loans in Florida. Borrowers are required to make a down payment of at least 5 percent and repay the loan within five to 20 years (depending on the contract terms). Having good credit is a must. The company doesn't charge prepayment penalties. If you pay off your loan faster, the interest rates will drop.
LightStream, Social Finance and other online lenders may be able to help you, too. These options usually involve lower costs than traditional banks and credit unions. The downside is that they have shorter repayment terms and may not be available in all states.
As a last resort, you could join peer-to-peer (P2P) lending platforms like Upstart, Peerform or Lending Club. These websites connect borrowers with lenders or investors, offering competitive APRs. After registration, you can post your request online and then wait to hear back from potential lenders.