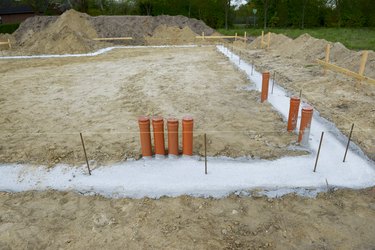 If you do not have the luxury of buying land for its full price in cash, obtaining a land loan through a lending institution is one option available to you. However, land loans can require a down payment as high as 50 percent. To take out a land loan without putting any money down, participate in a loan program that provides 100 percent financing, or negotiate terms with your seller or lender that replaces or eliminates the down payment.
Buying Land With a Loan
Being so-called nonconforming loans that do not meet Fannie Mae-based guidelines for funding, land loans are more difficult to find than loans for existing houses. Land loans require higher down payments due to their relatively higher risk of default as compared to home loans. The type of land also affects down payment levels. Because finished lots represent less risk than vacant land, the lowest down payment for the former might be 10 percent, whereas undeveloped land would require at least 30 percent.
As residential lots and land marketplace Lot Network notes, the loan-to-value metric helps lenders determine a fitting down payment. The loan-to-value is the loan amount divided by the property's value. Typically for land loans, the loan-to-value is between 60 and 80 percent, translating into a down payment between 20 and 40 percent.
Finding a land loan lender, let alone a no-down-payment land loan, can be challenging. However, you may be able to finance a land purchase without a down payment, provided you adhere to the guidelines of these specialty loan programs.
USDA Loan
Guaranteed by the U.S. government, the USDA loan gives eligible land buyers an opportunity to buy land with zero money down.
Benefits:
100 percent financing
USDA backing, thus eliminating risk and allowing banks to offer lower rates
reduced mortgage insurance premiums, as compared to FHA loans
Requirements:
the property must be in a location that the USDA deems as rural
household income limited to 115 percent of median area income
one loan length: 30-year fixed-rate loan
sufficient assets to pay closing costs, but not the ability to furnish a 20 percent down payment
credit score and debt ratio must meet minimum requirements
Although you won't be putting money down, you will have to pay mortgage insurance, which is added to the price of the house.
With this type of loan, the value of the land cannot be more than 30 percent of the total value of the property.
VA Loan
Another option for no-down-payment land purchases is the VA loan, which is a private loan guaranteed by the U.S. Department of Veterans Affairs. This loan is only available to qualified veterans and eligible surviving spouses, as well as active-duty servicepersons.
The VA loan offers veterans additional advantages of no mortgage insurance premiums, the ability to prepay without penalty and VA assistance in the event of default. However, where land purchases are concerned, only land that is linked to a construction commitment can be covered by this loan. The VA requires the borrower to apply for the construction loan and land purchase loan simultaneously.
Tip
Land brokers BK Hayes offer suggestions for buying land without a down payment. You can get creative about replacing the down payment and negotiating the eventual terms of the loan, such as selling services in lieu of a down payment. Depending on your profession, you might exchange accounting or legal services with the seller or lender. Alternately, offer real estate, such as a lot or several lots that you don't need, as a form of down payment on the land you do want.