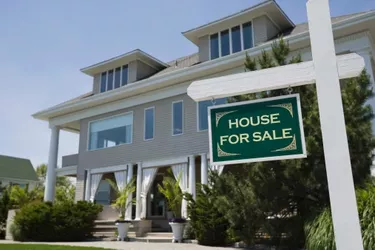 The Federal Housing Administration, an agency within the Department of Housing and Urban Development, has insured more the 34 million mortgages since its creation in 1934. FHA reimburses lenders in case of borrower default. Because the government must pay these claims when loans fail, HUD protects its financial interests by setting limits on the mortgage amounts FHA will insure.
The Basics
FHA-approved lenders make, or originate, FHA-insured loans. An FHA forward mortgage is used to purchase or refinance a home. A forward mortgage generally allows a borrower to build equity over time as he pays down the loan debt. Equity is the difference between the home's value and the mortgage balance.
Each year FHA establishes a maximum dollar amount HUD can insure based on the property size and location. HUD maintains an electronic database of current limits on its website.
Size
FHA has "floor" loan limits for low-cost areas of the country and "ceilings" for high-cost areas. The minimum FHA loan limits, or floors, represent 65 percent of the national conforming loan limit of $417,000. FHA ceilings are capped at 175 percent of the conforming loan limit.
In low-cost areas, the loan limits for 2011 are: $271,050 for one-unit dwellings; $347,000 for duplexes; $419,400 for triplexes and $521,250 for four-unit properties.
In high-cost ares, the loan limits are: $729,750 for one-unit dwellings; $934,200 for duplexes; $1,129,250 for triplexes and $1,403,400 for four-unit properties.
Identification
Loan limits apply to FHA's most basic and widely used insurance program -- Section 203(b) for single-family one- to four-unit dwellings. This program covers manufactured homes that adhere to HUD construction and safety standards and condominiums located within FHA-approved projects. The same loan limits apply to 203(h) mortgage insurance for disaster victims and 203(k) insurance for home improvement and rehabilitation.
Geography
FHA insures properties all over the U.S. and its territories -- urban and rural. FHA mortgage limits are designated by state, county and HUD Metropolitan Statistical Area (MSA). MSAs are highly populated areas that generally span several counties, such as Miami and Chicago, according to FHA-Loan.org. According to HUD, an MSA has at least one urban area with a population of 50,000 or more and its adjacent territory is highly socially and economically integrated with its core.