If you're just shy of 18 years of age, your loan options may seem limited. Not only do you have to clear the age of majority in your state to obtain a car or personal loan, you have to be at least 18 even to have a cosigner with some lenders. However, you may nonetheless be able to find loans — it'll just take some additional legwork.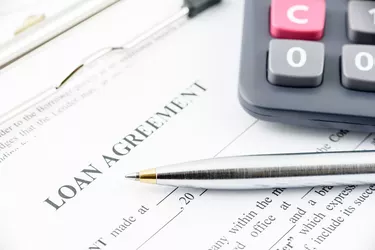 Auto and Personal Loans
Several lenders offer loans to borrowers who are just 17. The catch is that each requires a parent or co-signer to apply with you.
Check With a Local Credit Union
Certain lending institutions offer 17-year-olds different options for personal and auto loans. People's Credit Union, for example, has a "Credit Builder's Loan" that gives young borrowers the option to take out a loan to build good credit that will help them secure other loans in the future. Minors will need a parent or guardian to co-sign for the loan.
At SELCO Community Credit Union, you may qualify for an auto loan if you are at least 16 and have a steady part-time job. You'll also need a qualified adult joint borrower, and both of you have to go to the nearest SELCO branch to complete the loan application in person.
Student Loans
As a 17-year-old, you have wider berth for obtaining loans as a student. Federal student loans are among the rare situations where a 17-year-old can sign a promissory note.
Federal Student Loans
As part of your college or career school financial aid package, your school may include loans offered by the federal government. You must meet basic eligibility criteria, which includes U.S. citizenship, enrollment or acceptance for enrollment in a qualified degree program, a minimum of half-time enrollment and satisfactory academic performance. You must also qualify to receive a college or career school degree by presenting a high school diploma or proving a high school education via homeschooling.
These criteria do not specify minimum age to apply, though males must register with the Selective Service between the ages of 18 and 25. Provided you meet the above criteria, you do not need a cosigner to apply for a federal student loan.
These loans tend to offer students lower interest rates than private student loans do, as well as flexible repayment terms. Under the U.S. Department of Education Direct Loan programs, eligible undergraduates can choose from Direct Subsidized Loans, which are based on demonstrated financial need, or Direct Unsubsidized Loans, which are not based on financial need, or for students with exceptional financial need, the Federal Perkins Loan Program. You'll need to fill out a Free Application for Federal Student Aid, which serves as the basis for determining the amount of financial aid you can receive.
Private Student Loans
At 17, private student loans through banks, credit unions or schools may not be available to you. Unlike federal student loans, student loans through nongovernmental private lending institutions may require a cosigner. You may have to demonstrate an established credit history and your interest rate — between 3 and 13 percent as of 2018 — depends on your credit score.