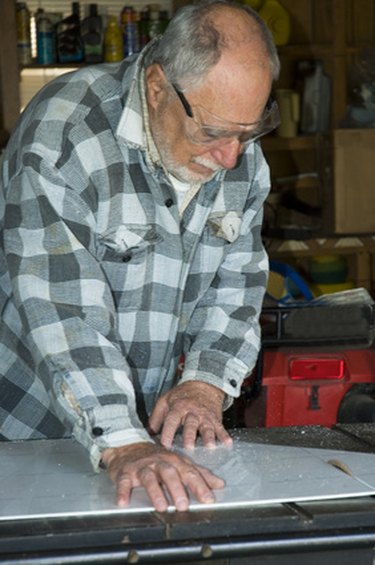 The U.S. Department of Housing and Urban Development, or HUD, provides affordable housing options for seniors on a fixed income. These programs subsidize a portion of the rent to make it more affordable and allow seniors to maintain an independent lifestyle. Applicants must meet HUD requirements to be eligible to receive help. An application must be completed and submitted to the program manager of the senior housing community. She is responsible for determining the applicant's eligibility.
Age Requirement
HUD requires that the head of household be 62 years of age or older to live in a senior community. The applicant will have to provide a birth certificate or identification card to verify his age. There is one exception to the age requirement, however. Some senior communities are required to restrict a percentage of the rental units to people with disabilities. If an applicant is disabled but is not 62 years of age or older, he still may be eligible to obtain housing.
Income Limit Level
Applicants for senior housing must meet income-level requirements to be eligible for help. HUD requires that housing administrators provide a preference to households that are at or below the extremely low income level, or 30 percent of the area's median income. Applicants in this income bracket will have priority over households that have a higher income. Some applicants will never qualify for help since their income may exceed the program's limit. HUD publishes the income-limit levels on an annual basis.
Background Investigation
HUD requires the applicant to be screened for drug-related criminal activity and lifetime sex offender registration. Housing program managers are required to reject applicants who have these on their records and also those who have been evicted from federal housing for drug-related activity within three years prior to submitting the application. HUD also requires that help only be provided to U.S. citizens or eligible noncitizens. If a member of the household does not meet citizenship requirements, the subsidy will be prorated to cover only those who are eligible.
Rental Charges
HUD senior housing residents can only be charged 30 percent of their income for rent. The remaining portion of rent is covered by the HUD subsidy. Income is calculated by annualizing monthly income and adjusting for allowances. Senior households are eligible to receive an elderly allowance of $400, in addition to an allowance for unreimbursed medical expenses. Once all the allowances are deducted, 30 percent of the adjusted income determines the tenant's monthly rent amount.