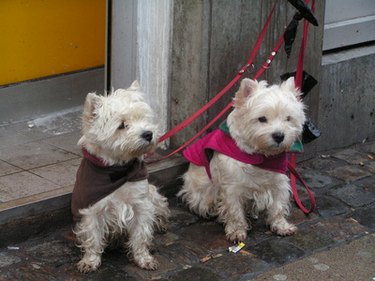 Although kids ages 13 and under are too young to be employed at traditional jobs, they can still make money in their free time after school, on weekends and during the summer. Kids should consider their interests and start their own businesses, allowing them to use these opportunities to make money.
Pet Care
Responsible kids can offer to care for neighbors' pets while they are away. One option is to work as a dog walker, which is helpful for people who work full-time and cannot walk their dogs in the afternoon. Kids who have a few clients can walk all of the dogs together, assuming they are small enough to keep under control, and make money for each dog.
Child Care
Kids who enjoy playing with younger children can offer child care services to families in the neighborhood. Kids ages eight and up can earn money as a mother's helper, caring for an adult's children with supervision. Once they reach age 11, kids can take a babysitting course through a community organization and offer to babysit while the parents are not in the home.
Yard Work
Yard work is a seasonal job, but kids who are skilled in a few different areas can offer different services each season. For example, kids can make money raking leaves in the fall and charge their customers a couple dollars for each bag of leaves raked. In the winter, snow shoveling is a good way to make money. In the spring and summer, kids can offer their services by mowing lawns and helping with gardening tasks, such as pulling weeds.
Selling Items
Entrepreneurial kids can start businesses selling just about anything of value. Items may include lemonade, hot cocoa, cookies, decorated cupcakes, beaded jewelry and candles. Because these types of businesses require supplies, kids should start by purchasing just a few supplies and seeing how the business goes before investing in more supplies. Another idea is to sell unneeded items at a garage sale, which does not require any financial investment. Friends and neighbors also might be willing to donate items for a kid to sell at a garage sale.