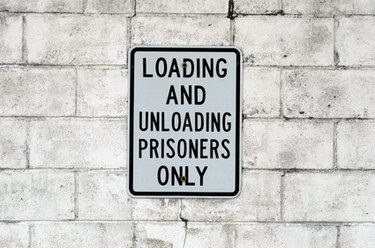 According to the British Journal of Criminology, the US has the world's largest per capita prison population (one in 100). When someone gets out of prison, he can have trouble finding employment and a place to live. A lot of employers will not hire anyone with a criminal conviction. Many landlords will not rent to them or may require a cost-prohibitive security deposit. During this adjustment period, many seek help. Unfortunately, there are no federal programs providing direct cash assistance to such people. There are, however, other programs.
Federal Employment Programs
A program created via the Job Training Participation Act helps by reimbursing employers for hiring people who are challenged when it comes to employment, including ex-prisoners.The Work Opportunity Tax Credit is a federal tax credit given to employers as a reward for each ex-convict they hire. The Prisoner Reentry Initiative (PRI) is a federal grant program that provides funding to organizations with job training and placement assistance for reformed criminals.
State Re-entry Programs
Besides the federal government, each state generally has its own set of "prisoner re-entry" programs to deal with the unique financial challenges of newly-released inmates. For instance, the The Mid-Ohio Reentry Coalition helps to fund G.E.D. study programs for ex-prisoners. The Edward Byrne Memorial Justice Assistance Grant (JAG) Program, in Washington, provides job training for convicts. These programs may or may not be partially funded by the federal government through specific block grants.
Nonprofits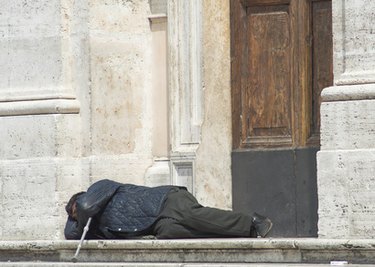 In addition to government programs, there are also nonprofit organizations and faith-based charities that assist prisoners with the financial pressures of re-entry into society. For instance, the Christian Association for Prison Aftercare, the Kairos Prison Ministry International and the Correctional Education Company all provide job training and placement for ex-prisoners. You can find what programs are offered in your area by visiting the online interactive Reentry Resource Map provided by the Department of Justice.
Fines and Food Stamps
One of the greatest financial challenges ex-prisoners face is one for which there is no assistance program. According to the Reentry Policy Council's publication "Repaying Debt," many of them have a large portion of each paycheck garnished to pay for court fines and probation fees. Ironically, this leaves many working ex-prisoners unable to pay for food out of pocket, but qualified for food stamps. So what the justice system takes away, the Human Services Department must provide.