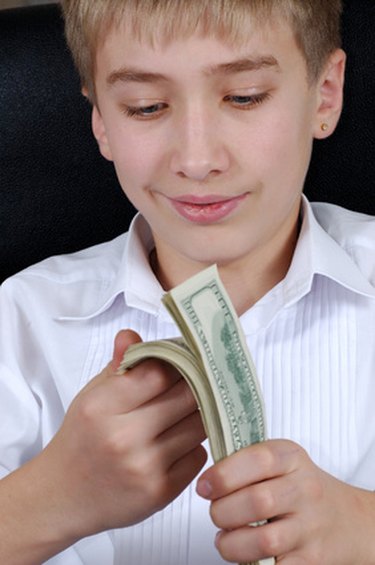 Kids often want more money than thier parents give them. Some tweens and teenagers need to earn their own money and are financially responsible for many of their purchases. There are several part-time jobs available for kids. They just need to apply themselves.
Babysitter
Many parents believe 12-year olds are responsible and reliable enough to babysit. The Red Cross, among others, offers a babysitting course to prepare people for situations they may encounter when babysitting, along with general first aid training. If you've never babysat before and haven't taken a babysitter course, start out as a "parent's helper." This position tends to the children, plays with them and keeps them safely occupied and engaged while their parent is home but busy with work or other tasks.
Lawn Service Provider
If you mow your own lawn and know how to safely operate a lawn mower, trimmer, edger and snow blower, offer your lawn service to neighbors. Your parents may need to provide transportation for you and your equipment, or you could walk or ride your bike and use your customer's equipment. In the warm seasons mow lawns, rake leaves, weed gardens, dig flowerbeds and fertilize the grass. During the cold months provide snow removal with shovels or a snow blower.
Pet Sitter
Offer to watch your neighbor's pets when they take vacations. This might entail walking the dogs, feeding and watering pets, changing kitty litter boxes or just playing with the pets for a certain amount each day. Some pets require more care than others. Talk with the pet owner to learn their expectations and the pet's preferences regarding food, exercise and play. It is helpful if you have your own pets so you know what to expect and understand the level of responsibility pet sitting requires.
Newspaper Delivery
Deliver your local newspaper around your neighborhood. Contact your newspaper's circulation department and ask if there are any delivery jobs available. They might be early morning or in the evening. It is important to deliver the papers on time to the customers. This job is fairly easy to work around your school and extracurricular activities. It also provides you with a consistent paycheck.
Fast Food Restaurant
If you're at least 14 years old, you're eligible to work in a fast food restaurant. If you are younger than 16, your hours are restricted and cannot be scheduled during your school day, though you'll have many opportunities to work part time. During the school year, you can work 7:00 a.m. to 7:00 p.m., provided it does not interfere with your school schedule. During the school year, you can work up to three hours on a regularly scheduled school day or up to 18 hours combined during the week. When school is out of session you may work up to eight hour days and as much as 40 hours a week. Teens 16 and older do not have schedule restrictions.