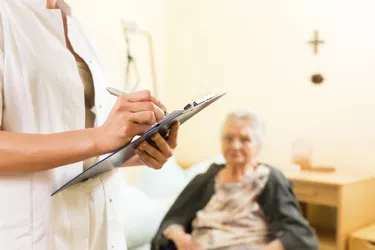 Starting in 2014, low-income residents of the Evergreen State can qualify for Medicaid through Washington's Health Benefit Exchange. Washington's Medicaid eligibility is based on a percentage of the federal poverty level guidelines, as determined by individual and household income. Medicaid applicants must apply online. Those without Internet access can either apply in person at a state office or apply via a special telephone assistance line.
Washington Apple Health
Washington's Medicaid program is known as Washington Apple Health. The state formerly had a children's health insurance program called Apple Health for Kids. Apple Health now covers low-income eligible adults. The Medicaid program covers emergency care, appointments with health care professionals, mental health services, maternity care, substance abuse treatment, prescription drugs and some vision and dental services for adults. Children receive full vision and dental care coverage. If necessary, Apple Health covers transportation to and from medical appointments.
Federal Poverty Level
Washington residents whose income falls below 138 percent of the Federal Poverty Level are eligible for coverage under Apple Health. As of publication, that's an annual income of $15,856 for a single individual, $21,404 for two people, $26,951 for a family of three and $32,499 for a family of four. FPL income guidelines are revised annually.
Applying for Medicaid
You can apply for Medicaid on the Washington Health Plan Finder website. Before applying, you'll need to gather certain information, including your monthly household income and the Social Security numbers and birth dates for everyone in your household. If you're an immigrant, you'll need to supply relevant information regarding your permanent residency status. Once you complete the application, you'll find out immediately if you qualify for Apple Health. If accepted, your Medicaid coverage begins on the first day of the month in which you submitted the application.
Countable and Non-Countable Income
To calculate your monthly household income for Medicaid purposes, you must include all salaries and wages, commissions, tips and self-employment profits. You must also count unemployment compensation and income from pensions, individual retirement accounts, Social Security, annuities, dividends, military retirement and rental income. If you or a household member belong to a Native American tribe receiving tribal gaming distributions, that income must be included. You do not have to include child support payments, foster care income, federal income tax refunds, Veterans Affairs benefits, needs-based assistance, the earned income tax credit or worker's compensation.