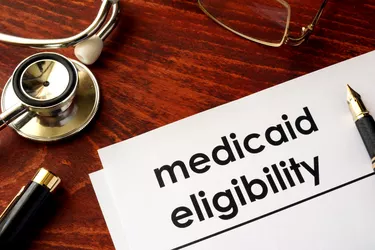 Medicaid is a government program that helps low-income Americans pay for healthcare. However, Medicaid eligibility and benefits vary by state, and it's important to check your Medicaid status if you are planning to have some health expenses. It's also a good idea to check if your Medicaid benefits are active on a regular basis so you are prepared if there is a medical emergency. In the state of Georgia, there are several ways to check your Medicaid status.
Medicaid Application Process in Georgia
Benefits.gov explains that in order to be eligible for Medicaid in Georgia, you must meet a number of criteria, and the Understanding Medicaid booklet provided by the state of Georgia enumerates how to provide documentation of meeting these criteria on page 15. It also contains lots of other helpful information that you might find useful.
To qualify, you must be a Georgia resident and also a citizen of the United States, or a U.S. national, permanent resident or legal alien. You must also be in need of health care or insurance assistance and have a household income below a certain threshold (benefits.gov provides both a calculator and a table to check if your income qualifies).
Finally, while some states extend Medicaid benefits to all low-income residents, in Georgia you must also meet at least one more criterion. These are being pregnant or responsible for a child under 18, being blind or having a disability or family member in your household with a disability or being 65 or older.
Once you have checked that you are eligible, you can apply online at the Georgia Gateway Customer Portal www.gateway.ga.gov, by mail, by calling the Georgia Medicaid phone number at 877-423-4746 or in person by going to a Department of Family and Children Services (DFCS) office, Public Health Department or Social Security office.
Your application will be assigned to an Eligibility Specialist who will review your documentation and make a determination of eligibility. You will also receive a Georgia Medicaid case number which will be visible on correspondence from DFCS and on the Georgia Gateway Customer Portal. It may take up to a week for your application to be registered in the system and receive a case number.
How to Check Medicaid Status in Georgia
There are three main ways to check if you have active Medicaid in Georgia. You can contact your Eligibility Specialist directly, you can contact the appropriate Georgia Medicaid department or you can check online on the Georgia Gateway Customer Portal. When checking your status by phone, you will need your Medicaid case number.
The Georgia government's website provides contact information for the Medicaid department. You may also have received your Eligibility Specialist's direct contact information during your application process. If you do not have it, you can call the DFCS to request it. However, as long as your application has been registered in the system (which will happen automatically if you applied online), the most expedient way to check is by going to the Georgia Gateway Portal.
Finally, you may find yourself at a doctor's office or pharmacy when you need to know your Medicaid status. In this case, the doctor's office or pharmacy can usually verify whether your Medicaid is active. They will need your full name and your Georgia Medicaid ID number, which is located on your insurance card.