Collectors of antique license plates benefit from the certainty of age. Most plates include the date of manufacture. The first license plates appeared in the early 1900s. Plates issued in the United States through 1920 are highly collectible, according to the Automobile License Plate Collectors Association. Fabrication, materials, size and numbers on the plates add to their value. An antique plate showing three numbers may be worth a considerable sum, according to the Horseless Carriage Club of America.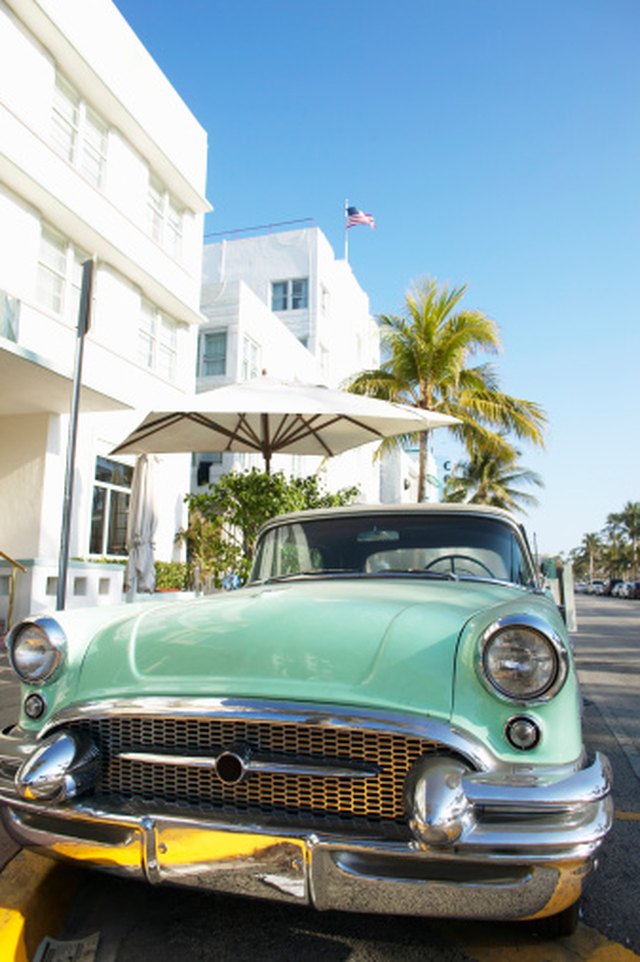 Step
Acquire antique porcelain plates for your collection. Porcelain plates were one of the heralds of fine automobile ownership in the early 1900s. All New England states issued the tags by 1905, according to PorcelainPlates.net. By 1909, 12 states issued these beautiful plates. Some cities, such as Lorain, Ohio and Providence, Rhode Island issued undated tags by 1910. Collectors consider these plates highly desirable. A Philadelphia plate from 1904 is offered on the site for $1,400.
Step
Buy unusual antique license plates for your collection. The size of an antique license plate may add to its value. Smaller plates, like those issued in West Virginia in 1903, may sell for thousands of dollars, according to "License Plates of the United States: A Moving History Since 1903," by James K. Fox.
Step
Purchase antique license plates in good condition. The definition of good condition varies by the age of the plate and its desirability. Discuss any very old antique license plate with a specialist to determine its future marketability in less than good condition for its age. The condition of an antique license plate adds or subtracts from its value. Like any fine collectible, look for plates in original condition. Wrap plates with care in layers of cushioning wrap. Keep them in a box, away from sunlight, moisture and heat. Maintain a record of your collection. For insurance purposes, keep the invoice, description and photo of each plate in a secure place.
Step
Attend auctions to purchase antique license plates at a favorable price. Find antique automobile plates in consignment or antique stores, but request a return privilege. Antique car shows often attract antique license plate sellers. Have any antique evaluated by a specialist. Consult experts for any purchase above $1,000. Reproductions and refurbished goods are in the market. These items fool even sophisticated buyers, so professional advice can help avoid costly mistakes.
Step
Join an antique license plate enthusiast club. A large club, such as the Automobile License Plate Collectors Association, offers members the opportunity to buy, sell or trade valuable antique license plates. The Antique Automobile Club of America provides information on shows around the country. Online sellers, such as Ruby Lane Vintage Collectibles, offer a variety of price points. Collect slowly when assembling a collection of antique license plates. The key to success in almost any collectibles pursuit involves patience. Collectors must sometimes sell a large collection in a financial emergency. Network to identify buying opportunities.