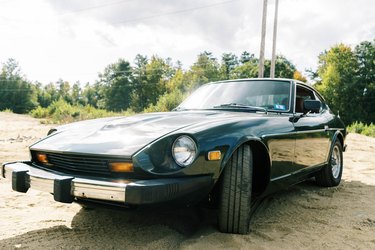 Do old license plates have value? They can, depending on their age, rarity and condition. You can guess what one might be worth and do some research on your own, but it is best to turn to the experts. Some plates could be valued at thousands of dollars, so if you happen to have one, it might be worth your while to do some investigating.
One of the most valuable antique license plates on records was a ​1921​ Alaska plate bought for ​$40,000​ and resold later for ​$60,000​. This is a fraction of what has been paid for other license plates, though. The writers for Motor Biscuit reported that in September ​2020​, a collector in the U.K. bid ​$500,000​ for a plate that had only two characters, "J 4." Another plate that dated back to 1902 and read "0 10" fetched ​$170,000​ in ​2017​.
Plates with few numbers and letters can be quite valuable, in fact. The Alaska plate that sold for ​$40,000​ had three numbers: "​270​." Another reason for that Alaska plate's high value is its history. When it was made, it was one out of just four that were issued by Alaska before it joined the United States. Talk about rare!
License Plate Value Guides
Some websites can explain the factors that determine if an old license plate is worth anything, and license plate value guide books are helpful, as well. Some of these guide books are only about antique license plates, while others are more comprehensive and contain information about all kinds of collectibles and their selling prices. One guide is dedicated only to license plates is "License Plate Values: A Guide to Relative Prices of Collectible U.S. and Canadian Auto License Plates and Their Grading."
License plate value guides can be helpful, and another way to find out if an old license plate is valuable is to join the Automobile License Plate Collectors Association (ALPCA). Upon joining, members gain access to their bi-monthly PLATES magazine, which has classified ads. They also recommend going to car shows where you can find vendors selling old license plates; another option is to look for ones up for sale on eBay.
Old License Plates Value Grades
You might have a ​1920​ antique license plate, but its value is probably negligible if it is in poor condition. The highest grade is mint condition; these are unused or have absolutely no visible marks, fading, rust or deterioration. If it is in its original envelope, that is all the better. Plates in excellent condition might have slight scratches near the corners or bolt holes or bolt marks, but no discoloration or rust.
To be classified as very good condition, antique plates can have a few minor scratches, a bit of rust on the edges and minor discoloration. If the plate is made from porcelain, there can be only a minor amount of chipping. Those in good condition might have discoloration, fading and general slight rust and some inconspicuous dents or holes. Porcelain plates can have minor retouching and up to ​2 or 3 percent​ of the plate chipping.
Fair condition equals torn bolt holes, damaged corners, moderate rust on the numbers and background, heavy rust on the bolt holes and edges and moderate to severe discoloration and fading. Porcelain plates that have up to ​20 percent​ of the porcelain missing can also be categorized as fair. Anything that is further damaged or deteriorated (complete rust, large holes) is in poor condition and probably worthless.