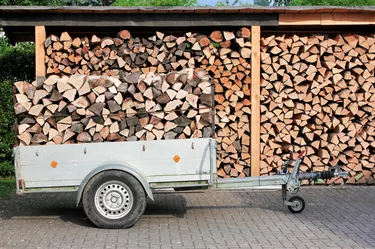 They may look like simple rectangular boxes on wheels, but utility trailers are indispensable if you live in a rural area and need to haul hay or critters. Even if you have a suburban lifestyle, once you own a utility trailer you'll wonder how you ever did without it. The only downside to owning one is that you will always be at the top of every friend's call list when they need to move.
Texas Trailer Registration
Whether your utility trailer is homemade or manufactured, if you're going to tow it on public roads in Texas, it's got to be registered. Manufactured trailers are those built by trailer manufacturers like Big Tex or H & H. Manufacturers usually put their name on the trailer's tongue and a few other places – free advertising for them wherever you go.
Utility trailers have such a simple design that a lot of people make their own from scratch or repurpose the beds of long-dead pickup trucks. Just like manufactured trailers, if it's going to be used on public roads, it's subject to Texas trailer laws.
Texas further divides utility trailers into two weight categories; those that weigh up to 4,000 pounds and those that weigh more than 4,000 pounds. Registration fees are based, in part, on weight. The Texas Department of Motor Vehicles is interested in gross weight. That is the total weight of the trailer plus the maximum weight of cargo it can carry.
Manufactured Utility Trailers
Manufactured trailers come with a manufacturer's certificate of origin. If the trailer weighs more than 4,000 pounds gross, it will also have a certificate of title. Like the vehicle identification number that identifies your car, these documents contain a unique number that identifies your trailer.
If your trailer is brand-new, the MCO is your proof of ownership. If it's used and its gross weight is no more that 4,000 pounds, a bill of sale and registration receipt is proof of ownership. If its gross weight is over 4,000 pounds, you'll need its certificate of title to get it registered.
Regardless of what documentation you have to prove ownership, you will also need to fill out a Form 130-U, which is available to download on the Texas Department of Motor Vehicles website. Take everything to your nearest Texas DMV and pay the fee.
Homemade Utility Trailers
A homemade trailer won't have an MCO, so you might want to get a title for it. Although titles are required only for homemade trailers that weigh over 4,000 pounds gross, it's not a bad idea to get one regardless of your trailer's weight.
It will make transferring ownership easier if you decide to sell it. You can also renew its registration online after it's titled. To get a title for your homemade trailer, it has to pass a Texas trailer inspection, which is done by an auto theft law enforcement officer.
If your homemade trailer is new, Texas trailer laws require that you fill out forms VTR-141 and 130-U. Both forms are downloadable from the Texas DMV website. If you've bought a used homemade trailer, you'll need a bill of sale and registration receipt if it weighs up to 4,000 pounds gross. If it's over that, you'll need a certificate of title.
Farmers and Equestrians Get Breaks
One way the state of Texas supports its farmers is that they charge the nominal fee of $5 for a farm trailer license plate. The trailer has to be used for transporting crops, livestock or farm equipment.
Equestrians get a break too. If you haul your horses to shows or staging areas for organized equine activities, you'll pay $5 for your horse trailer's license plate. If you're not sure whether the activities you and your horse are involved in qualify, contact your county tax assessor's office.