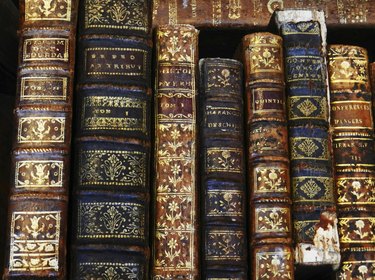 If you're like most serious readers, your old books overflow your bookcases and spill into -- perhaps overwhelm -- various sections of your living space. If you want to cut the clutter, selling some old books will free up horizontal surfaces and could put serious cash in your pocket. Determining which ones have value requires inspecting their condition and then checking their printing dates.
Book Condition
For most books, condition is paramount. In booksellers' parlance, condition rating runs the gamut from "as new" to "poor." Ideally, a book should appear as it did when first issued. Hardcover books should have the original dust jacket. All books should have intact spines, ensuring the book holds together. It should have no tears or rips, and certainly no missing pages. Highlighting or pencil marks on the pages diminish value.
First Edition Test: Newer Books
First editions are generally the most valuable books. Books published between 1970 and 2007 contain a 13-digit number a left-facing page near the title page, which also contains copyright information. This International Standard Book Number, or ISBN, is divided by hyphens into four parts. The third section identifies the edition. The ISBN has five sections in books printed after 2007, with the identifier in the fourth section. A first edition is noted as such above those numbers.
First Edition Test: Older Books
The test is a little harder if you're holding a book published before 1970. These also contain numbers on the copyright page, but the sequence and meaning varies according to the publisher. However, if your book contains the same dates on the copyright and title pages, it's likely a first edition.
Rare and Collectible Books
Like any item, a book is worth what someone is willing to pay for it. Scarcity and a book's importance determine value. Certain books, even very old ones, are not particularly rare. These include most Bibles, encyclopedias, textbooks printed after 1850, collected editions and reprints. Certain genres are valued by collectors, such as cookbooks and children's literature. Value also goes up if your book is signed by its well-known author, or you can prove it was once owned by a noteworthy person.
Searching Online
The Library of Congress website recommends visiting the Antiquarian Booksellers' Association of America online for sale information, as well as the ABAA listings of dealers and appraisers. As the AABA website explains, booksellers price used books based on a secondhand or rare book market in a constant state of flux. "Prices reflect an ever-changing book market, of which the Internet bookmarket is only a part," according to the AABA.