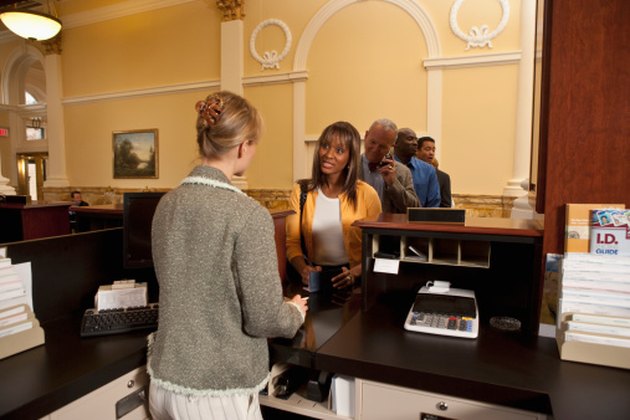 Many commercial banks and credit unions offer free checking accounts allowing account holders to maintain low balances, some as little as $1 without high fees. Most banks do not run a credit check when opening an account, but may use a check verification search to see if you have a history of writing bad checks. A bank may run a credit check when opening a new account to see what other services you may qualify for, such as mortgage refinancing, credit cards and equity loans. You can open a free checking account without a credit inquiry.
Step 1
Pick a bank that offers free checking accounts. Many major commercial banks and credit unions offer them. Call local banks and see which has branches convenient to you.
Step 2
Go to the bank and meet with a new account representative. Request a new account application. Read through the application fine print to see if a credit check is standard. It is not for most banks but would need to be disclosed in the application paperwork. Ask the representative if you have any concerns.
Step 3
Complete the application and sign it. Provide the representative with your identification and sign required signature cards.
Step 4
Decline any alternative services and products the representative suggests, including credit cards, overdraft protection and mortgage services. These services require credit checks.
Tip
Banks use check verification reports to know whether a customer is likely to write bad checks, thus increasing possible losses to the bank. This is not a credit check and will not show on a credit report. Some banks are increasing minimum balances to increase the revenues for collected fees when account holders drop below the minimum. Read the fine print on your free checking account. Many banks are charging for each check written above a designated number while others charge for online banking privileges. Make sure you understand how your bank defines "free."