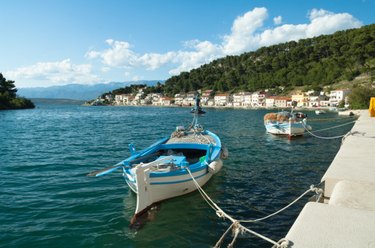 Finding a safe, cheap place to retire can help you make the most of your nest egg and ensure happy, tranquil golden years for you and your spouse. Fortunately, there are many places across the U.S. that are ideal for retiring. Finding one that suits you requires thinking about what's important to you, whether it's quick access to a major city, warm weather or availability of outdoor activities.
St. George, Utah
This southwestern Utah town of roughly 62,000 residents came first on Kiplinger's list of ideal places to retire for people who love the outdoors. St. George offers a high-desert climate and mild winters, with about 300 days of sun each year. The mild weather means that outdoor activities like hiking, biking and golfing can be done year-round amidst the stunning red-rock cliffs in the area. According to the St. George Chamber of Commerce, the average home sold for about $228,000 in 2009. Property taxes are $622 per $100,000 of property value, and the sales tax is 6.25 percent.
Sarasota, Fla.
For those dreaming of a beachfront retirement, Sarasota, located on the western part of Florida along the gulf coast, may be a dream come true. It offers mild weather year-round. However, the ocean is not the only draw for retirees. Sarasota has an active arts scene with a symphony, opera and ballet company, as well as a variety of museums and theaters. With a population of about 53,000, Sarasota's average home price, as of 2010, is about $241,680, according to Home Insight. While sales tax is 7 percent and property is taxed at a rate of $1,767 per $100,000 of property, there is no income tax.
Houston, Texas
Big-city lovers who want to live in a world-class cultural hub will find Houston the ideal city in which to retire, in part because it's so affordable. World-class shopping and cuisine, as well as activities like golfing and boating, are just a stone's throw away, whether you choose to live right in the city or in one of the nearby suburbs. Plus, year-round warm weather means arthritis won't be bothering you as it would in a chilly climate. According to Home Insights, Houston houses went for an average of $163,092, as of 2010, well below the two previously mentioned cities. The sales tax rate is higher though, at 8.18 percent.