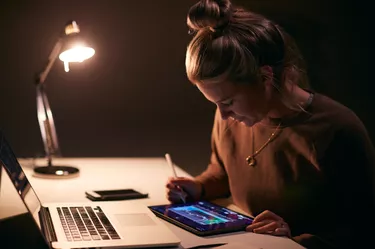 Stockbroking in South Africa was once reserved for the wealthy. But in this digital era, anyone can buy and sell equities with the click of a button. If you're passionate about trading, you could become a stockbroker and help others make profitable investments. This profession requires in-depth knowledge of financial markets and tax legislation, as well as a commitment to continuous learning.
Tip
The first step to becoming a stockbroker in South Africa is to earn a bachelor's degree in economics or a related field. After that, you must acquire relevant work experience and pass a series of tests administered by the South African Institute of Stockbrokers.
What Does a Stockbroker Do?
Trading stock comes with its share of challenges. First of all, it requires technical know-how and a good understanding of tax legislation. Second, it takes years of practice to become a successful trader. Investors also have to stay abreast of the latest regulations and market movements. Things are even more difficult for those looking to diversify their portfolios.
Given these complexities, it's not surprising that many investors work closely with stockbrokers. As a broker, you will use your expertise to buy and sell securities on behalf of your clients. This role requires strong communication and sales skills, as well as the ability to convey complex information to a variety of audiences. Your day-to-day duties may include:
Analyze and monitor the stock market
Stay up to date with the latest financial news
Reach out to prospective clients
Find investment opportunities for existing clients
Use stock trading apps and other financial tools
Make recommendations and offer advice on how to mitigate risks
Give presentations at conferences and other industry events
Train stock market traders
Manage your clients' investment portfolios
Most professionals in this industry work for brokerage firms and earn a base salary plus commissions and bonuses. Their responsibilities may vary, depending on the type of brokerage firm. For example, full-service stockbrokers offer a wide range of services, such as asset management and financial planning. Brokers also spend quite a lot of time prospecting clients and cultivating existing relationships. Ohio University notes that it takes about five to 10 years to establish your reputation in this field and build the connections you need to achieve success.
Education and Training Requirements
South Africa is home to the Johannesburg Stock Exchange, the largest stock exchange on the continent. It's also considered an innovation hub, offering opportunities in the banking, technology and manufacturing industries. Brokerage firms are regulated by the South African Institute of Stockbrokers (SAIS), an organization that seeks to maintain the highest standard of conduct in the profession.
The SAIS requires at least three years of work experience in the financial markets industry to become a qualified stockbroker. Candidates must also take and pass a series of tests covering tax and financial legislation, portfolio management and other related topics.
As far as education goes, they must earn a Bachelor of Commerce degree or a Post-Graduate Diploma in Financial Markets. Another option is to apply for the recognition of prior learning. Additionally, you must be employed in the financial markets industry at the time of your application. If you meet these requirements, you may use the designation CSb(SA) and call yourself a certified stockbroker.
If you decide to pursue this career path, look for degree programs in economics, accounting, business or other related areas. For example, the University of Johannesburg gives students the opportunity to learn about business management, finance, economics and econometrics, marketing, international accounting and more. Some programs can be completed online. Another good choice is Nelson Mandela Metropolitan University, which offers more than 500 study programs in a diverse range of fields, from chartered accounting to commerce and business.
After you complete your education, apply for an internship at a brokerage firm to gain experience. Most companies offer on-the-job training, which can further broaden your knowledge. You may also sign up for specialty courses, such as those offered by the SAIS, to gain a better understanding of your role and earn additional credentials.