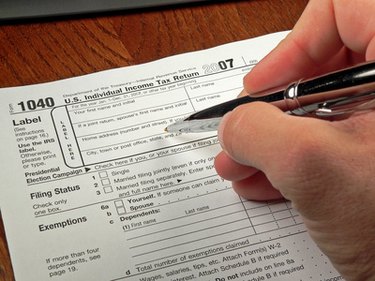 A 1099 is a tax form the Internal Revenue Service (IRS) uses to track how much money you have paid out to non-employees, also known as independent contractors or vendors. It is similar to a W-2 form, which tracks monies paid to employees. There are rules related to the 1099 that determine who gets a copy and who must file. These rules also dictate when businesses should file.
Who Should File
You should file a 1099 if you are engaged in business or trade and have paid out $600 or more to non-employees during the tax year. You also must file a 1099 if you've paid at least $10 in royalties. As pointed out by the Oblivious Investor website, you may file a 1099 if you've paid less than $600, but this is not required. The Georgia Department of Banking and Finance states that payments may include backup withholding, rent or prizes and awards that are not for service and royalties, all payments to crew members by owners or operators of fishing boats, payments to a supplier of health and medical services and crop insurance proceeds.
Copies
The original copy of the 1099 form is filed with the IRS. Another copy is sent to the state tax department. A third copy is sent to the payee or recipient. The person or business to whom you have made payments will need the form to verify income when filing. The IRS will use its copy to look at your business expenditures and revenue on your own taxes. Always keep a copy for your own records.
When to File
You should file a 1099 before January 31 of the year following payments. For example, payments made in 2011 would be reported by January 31, 2012. In other words, you have one month from the end of the year to gather all of your payment data and get your 1099s together. Because this may be difficult if you have paid many independent contractors, it is advisable to keep proof of all payments organized in files that correspond to each contractor.
Exceptions
Monies paid to corporations or for merchandise generally are not reported as of 2011, but the Oblivious Investor website states that you will need to report monies paid to corporations for merchandise starting in 2012. You do not need to report monies paid to any level of government or to tax-exempt organizations.