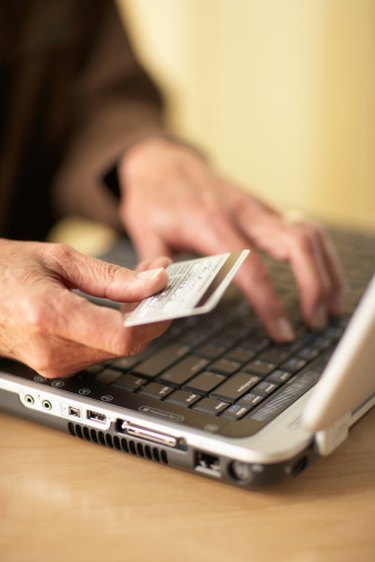 Employers increasingly are offering direct deposit options for employee paychecks. This is in part because direct deposits reduce the administrative cost of issuing the checks, as the company doesn't have to spend the money for paper and ink and can let computers do the transfer work instead of employees. The catch is that employers usually direct deposit into checking accounts. If you've been reported to ChexSystems and can't get a checking account, or if you simply prefer not to use a bank, this creates a bit of a challenge. The solution is to get a prepaid credit card and have your paychecks deposited into the card account.
Step 1
Visit the websites of companies that offer prepaid credit cards. Compare fees and perks, as well as the application process for each company. Look for a card that has no fees or that will waive them with direct deposit, and which provides online account access -- without online access, you'll have to call the card company any time you want to review your charges or view your balance.
Step 2
Apply with the card company of your choice. Submit the application online or print the application so that you can send it via regular mail.
Step 3
Follow the company's instructions to activate your card once you receive it. Usually, as with regular credit cards, this involves calling a customer representative number and providing the name and number on the card, but companies usually allow activation online, as well.
Step 4
Print a direct deposit form from your card company or request one by phone, email or regular mail.
Step 5
Go to your employer's human resources department and ask for the form necessary for direct deposit of paychecks.
Step 6
Fill out the forms and give them to your employer's HR department -- you'll need to note the card account number and the routing number associated with the card on the forms. Depending on your card company, the card company also may need you to send copies of the forms to verify you've authorized the direct deposit; but because the employer is putting money on to the card instead of trying to withdraw, some companies don't need copies.
Step 7
Log in to your card account online and verify your paycheck has been deposited as requested, in accordance with your employer's payroll check issuance schedule. Contact the card company and your employer's HR department if there are any problems.
Tip
Not all prepaid card companies are equal in terms of what cards vendors accept. The more widely accepted the card is, the more likely it is that more vendors will take the card. This is extremely important if your prepaid credit card is your primary method of accessing your paycheck funds. You may find that linking the card to another online escrow account provides more options.
Things You'll Need
Prepaid credit card application form

Prepaid credit card direct deposit authorization form

Direct deposit authorization form from your employer