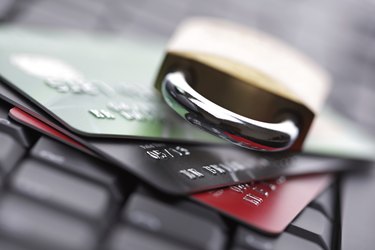 Having your identity stolen is devastating and personal. But when you take charge of your financial data, you can avoid being a victim. By regularly reviewing your credit card and bank activity, you're in a better position to stop identity theft before it can do much damage. Set up email monitors to alert you to charges over specific limits. While this may be annoying because of the extra emails you receive, it can also help you nip identity theft in the bud. Be diligent. If identity theft does occur, take the appropriate steps and fix it immediately.
Take Immediate Steps
The U.S. Federal Trade Commission says to immediately contact Equifax, TransUnion or Experian, the three national credit reporting bureaus, to tell one of them you are a victim of identity theft. Have the agency you call place a free fraud alert on your account and verify that it will contact the other two agencies on your behalf as required by law. When you contact the credit agency, be prepared to provide proof of your identity. Call your bank and any credit card companies with whom you have credit to cancel existing bank and credit cards and have new ones reissued after telling them you are a victim of identity theft. To aid in the investigation, you can also report the identity theft to the U.S. Federal Trade Commission, but that only provides a database for law enforcement personnel; it doesn't fix your identity theft.
Credit Reports
Request free credit reports from the credit reporting bureaus. Verify that each report contains accurate personal information, such as your Social Security number, current address, employer or other personal information. If you notice any information that represents fraudulent activity, false information or accounts that you didn't open, dispute these charges with the credit bureaus and with the companies that processed these charges; have the charges removed from your account. You need to monitor these reports after establishing the fraud alert to check for any additional fraudulent items that may pop up.
Send Letters
Send a letter to each of the companies where the thief used your personal information illegally, listing the dates, times and amounts of the fraudulent charges. Inform these companies that you are a victim of identity theft and you have a fraud alert on your account. Keep the tone of the letter professional. If a law enforcement agency is investigating the fraud, give the company the officer's name, address and telephone number.
Records Request
The records to request from these companies include paper, phone or online account applications, account invoices or statements, charge slips or payment records, delivery addresses associated with the account and any investigator's reports, copies of all phone numbers used to access or activate the accounts and any other documents associated with the illegal activity. Also let them know that you are legally entitled to receive copies of all business records used by the thief in accordance with section 609(e) of the Fair Credit Reporting Act. Ask them to send these records to you and the law enforcement agency investigating the crime. Include a copy of the identify theft report or other proof they may require with your letter.
Logs and Prevention
Keep a log of the dates and times you make calls, whom you spoke with and whom you wrote letters to. Keep copies of all written correspondence -- including emails -- in a file with the log. Review your credit report again after 90 days to ensure that no more charges appear on your account; if you find more, follow up immediately. Consider hiring a service that monitors your records for a small monthly fee to ensure you are protected against identity theft in the future. These companies scan for threats, guarantee protection, track your credit score and take the steps to restore your identity in the event of fraud.