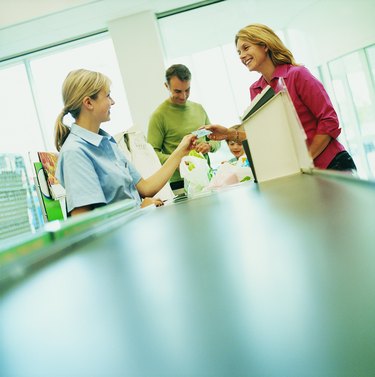 The loyalty program Nectar gives shoppers in the United Kingdom the opportunity to rack up points by doing their usual shopping at participating retail stores and e-shops. Points are then redeemed to pay for travel, entertainment and food and drink, as well as to make charitable gifts.
Collecting Points on the Card
It's easy for residents of the United Kingdom to obtain the free Nectar loyalty card from any Sainsbury's, Homebase or BP. After registering the card, you collect points by buying from any of Nectar's more than 500 partners. Whether you buy a purse or electronics, the purchase will give you a certain allotment of Nectar points. For example, you receive 5,000 points for taking out an insurance policy with PruHealth, or 2 points per pound spent at Sainsbury's. As of the date of publication, 500 points equaled at least 2.50 British pounds, or $3.93, or to spend.
Redeeming Points
Once you've got your points, redeem them by swiping your card at the till of any store that partners with Nectar. The points will go toward the purchase, and any balance must be paid with an alternate form of payment. You may also apply your points to an online purchase by furnishing your Nectar card number at checkout. In some cases, you may use the points to buy gift cards or vouchers to be used at a later date.