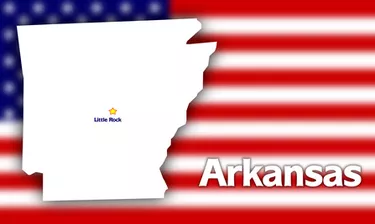 Being pulled over by a police officer can be frightening, and just when you think you won't be getting a ticket, you can get slapped with a no insurance or no tag citation. A no insurance ticket in Arkansas can incur fines and penalties, including vehicle registration suspension, impounding of license plates and fees.
Not having Arkansas tags or having expired tags will result in fees. The Arkansas DMV advises drivers that the actual fines vary by the kind of violation and court, and the ticket will have the fine amount shown on it. It's also likely that you may face an increase in insurance rates, depending on the specific violation for which you are cited.
According to the Arkansas Department of Finance and Administration, under Ark. Code Ann. § 27-14-1004(a), you can expect a late registration penalty of $3 for every 10-day period you have failed to properly register your car. This will continue until the penalty reaches the same amount as the annual license fee of the vehicle. This can range from $17 to $30.
Fixing Lapsed Registration or Plate
If you know that your license plate or registration has lapsed, it pays to fix the problem right away. Arkansas drivers can resolve this problem by renewing their vehicle registration online, by phone, by mail or in person at any state revenue office. It can be done online at Arkansas Streamline Auto Renewal (ARSTAR). Callers must have their renewal reminder that shows a renewal ID number and a verification code.
Otherwise, the driver's last four digits of their VIN, license plate number and ZIP code can be used. An electronic check or valid credit card can be used for payment. This is the easiest way to get Arkansas tags online. It's important to get new tags and to always have valid insurance to avoid a no insurance ticket in Arkansas.
If a license plate gets lost, a duplicate can be requested by contacting the Arkansas Department of Motor Vehicles. The renewals must be completed by the dates shown on the renewal reminders. If it is a new or used car purchase, the owner must apply for the registration and title within 30 days of transfer (or 30 days after a prior lien was released). You can contact your local motor vehicle office for assistance if you aren't sure how to proceed.
The Arkansas Department of Motor Vehicles website also has links for registering and getting Arkansas tags for a new car, transferring vehicle ownership, renewing registration, getting driver's licenses and more. You can also look to see how much Arkansas tags cost, order personalized license plates and calculate sales tax for purchasing vehicles. This is the fastest way to get all of these DMV tasks done. However, some Arkansas drivers will need to have a payment method handy.
Arkansas Tag Placement and Design
Arkansas is one of 19 states in the U.S. that only requires one license plate, which is supposed to be affixed to the rear of your vehicle. The government of Arkansas offers a variety of specialized Arkansas tag designs for nominal fees. These come in a wide variety of different colors and decorations and can be ordered online at the Arkansas Department of Finance and Administration website.
Some of these specialized tags are only offered to certain applicants, such as the one that is made only for ambulances, disabled veterans or the State Lodge Fraternal Order of Police. There are special license plates for college alumni, game and fish enthusiasts, nonprofit organization members and many more. You will find pages and pages of different tags to choose from, so there is a high chance you'll find a license plate you really love.