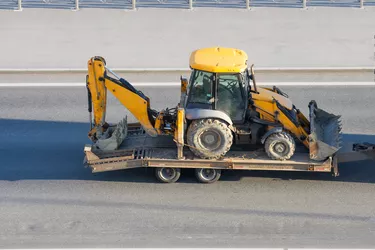 The Pennsylvania Insurance Department regulates insurance companies conducting business within the commonwealth. Pennsylvania law requires all drivers to purchase insurance before they can legally use the state's roads. The Pennsylvania Department of Transportation is responsible for ensuring proper vehicle insurance coverage. Failure to obtain proper vehicle coverage carries stiff civil penalties, including minimum $300 fines, vehicle registration suspension, vehicle impoundment and vehicle license suspension. According to Trusted Choice, the Department of Transportation does not require drivers to maintain separate insurance for their utility trailers.
Pennsylvania Insurance Requirements
Under Pennsylvania law, all drivers must purchase medical coverage of at least $5,000, property damage liability of at least $5,000, bodily injury liability coverage of at least $15,000 and $30,000, depending on the number of insured drivers and limited or full tort coverage, reveals The Zebra.
If the Pennsylvania Department of Transportation finds that a driver did not maintain adequate insurance, it can suspend his license for three months, assess at least a $300 penalty, revoke his registration for three months and impound his vehicle. Drivers must pay restoration of registration fees and provide proof of adequate insurance to request a return of their licenses.
Utility Trailer Registration
The Pennsylvania Department of Transportation requires drivers to register all vehicles within 20 days of moving within the state. Utility trailer owners obtain 90-day tags from state dealers and are required to register their trailers within 90 days. The department requires proof of adequate insurance coverage during the PA trailer registration process. Owners are required to obtain safety inspections annually for all of their vehicles, including trailers of less than 3,000 pounds.
Utility Trailer Insurance Requirements
Since Pennsylvania's auto insurance regulations require all drivers to insure their vehicles with the minimum auto coverage policies, they do not have to purchase separate insurance for their utility vehicles. Insurance carriers will require motorists to provide registration information for their utility trailers.
Generally, vehicles that are towed are not required to be insured separately, and as long as the vehicles towing the utility trailers are insured, a separate policy is unnecessary. However, residents must provide proof of insurance coverage on their main vehicles when titling their utility trailers.
Pennsylvania motorists must insure each of their vehicles with $5,000 of medical coverage to pay for medical benefits, regardless of motorists' fault, bodily injury liability to pay for rehabilitation expenses and injuries caused to other motorists. Motorists must obtain a $15,000 minimum insurance liability to cover individual bodily injury and $30,000 total per accident minimum coverage.
Additionally, motorists can purchase optional coverage policies, including uninsured motorist coverage, stacking coverage, loss of income coverage, comprehensive coverage, funeral benefit coverage, extraordinary medical benefit coverage and underinsured motorist coverage.
Additional Important Considerations
Since state laws can frequently change, check with the Pennsylvania Department of Transportation or your local insurance company to make sure these figures are still accurate. Taking the time to do this is a much better option then having to pay a hefty fee later on.