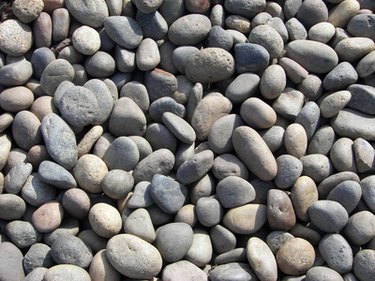 Landscaping can add extra value to your home by improving the look of the exterior. Landscape projects, however, can easily cost thousands of dollars, which you may not have. If this is the case, set a budget and consider what you can do to your garden on your own.
Find Surplus Materials
Many cities acquire more trees, shrubs, mulch or compost than they need. According to MSN, the city of Seattle currently offers up to 40 free trees to groups of neighbors who agree to plant and maintain them. Check with your city to see if there are plants and other garden materials that you can obtain free of charge or at a deeply discounted price.
Choose Seed Instead of Sod
Although the instant gratification of installing sod in a yard is appealing, sod can easily eat up a landscaping budget. Planting grass seeds instead of sod in a yard requires the same prep work and creates the same look for a fraction of the cost of sod, although it does require patience and more initial attention while the seeds sprout.
Recycle Construction Site Debris
You can create a path or walkway at a reduced cost as well. Measure the area of the intended walkway and estimate how many 1-foot stone steps you will need. Then scope out construction and demolition sites in your area and ask if you can take some of the smaller pieces of concrete. The Dollar Stretcher recommends looking for pieces of concrete that have at least one flat side and are about a square foot in size. Lay the pieces of concrete where you plan to have the walkway, setting them as far apart as you like. Use a shovel to dig a hole that is deep enough for the flat part of the concrete to lay flush with the ground, making sure it is level. Pour pea gravel around the concrete for a low-cost decorative element.
Shop at Quarries
When you need gravel or stones for your landscape project, buy the stone from a local quarry instead of a garden store. Gravel sold at garden stores is typically more expensive because the cost includes shipping, labor and the price mark-up. Also, consider visiting demolition sites to ask if you can take any landscaping stones the former building used.