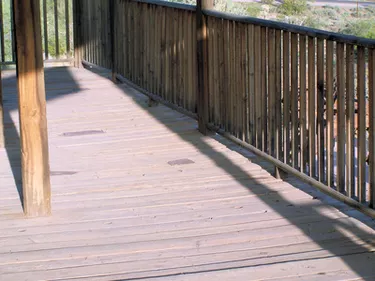 If you're looking to construct a porch on your property but don't want to spend a lot of money, there are a few options for you to consider. Although it's commonly known that you "get what you pay for" when it comes to building, you don't have to spend a fortune to have at least a small, functional porch or deck. Understanding your options when it comes to building a porch for cheap will assist you in making the best financial building decision for your home.
Do it Yourself
No matter how great the deal is or how long you've known your contractor, the most inexpensive option to any home improvement project is to do it yourself. While you'll still be paying for the materials you will save greatly in the labor department. You can find step-by-step "how to's" online and even in your local home improvement store. There are even outlet type stores that sell home improvement products at relatively inexpensive prices. This will allow you to get a good quality product (it may be an older model or something that just didn't sell as well as expected) at a cost efficient price. Of course if you just aren't able to do the work, or you don't trust yourself, solicit bids. Check your options even if you intend to use the same person or company you always use.
Screened Porch
A screened-in porch allows protection from pesky bugs and animals and is also an affordable option for an enclosed porch. You can apply mesh screening to your existing porch by adding a few more wooden support planks. Simply measure your dimensions and cover with the mesh screen; using heavy-duty staples is easier and more efficient than nails. Nailing the screen can cause tearing.
Concrete Flooring
Concrete is inexpensive, quick drying and easily painted. This is a great option when laying the flooring of a new porch. Wood options don't necessarily stand up to time nearly as well, and they require quite a bit more maintenance. Even when concrete cracks it can be quickly filled which will completely rebond instead of just cover the problem. You can also paint the concrete for a decorative finish that matches the home. Concrete is a great option that stands up to everyday wear and tear and can handle any weather condition.