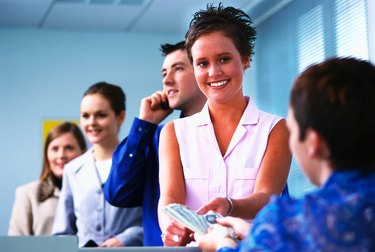 A bank statement contains your personal contact information, the account number as well as the deposit and withdrawal history for the time period of the statement. There are instances where you will need to forward a copy of your bank statement to a third party for review. This may be a legal proceeding or contesting some charge with a vendor. In these types of instances, you may want to edit or redact the information that the third party can see, limiting visible information to only what is relevant to resolve the situation.
Step 1
Make a copy of the bank statement, setting the original back with your bank records for safe keeping.
Step 2
Cover the information that isn't pertinent to the person requesting a copy of the statement. Use a ruler to keep lines neater with the black marker, covering items such as your Social Security number, irrelevant transactions or even your address of record.
Step 3
Highlight the information that is most pertinent. This should include the account name, the transaction information and possibly the account number if it needs to be included.
Step 4
Make a color copy of the redacted bank statement. Keep the original copy for your records (you may be able to discern information through the redactions where the copy eliminates this).
Tip
Consult an attorney or bank representative if you have questions about what information must be left for the third party to review and resolve the problem.
Things You'll Need
Bank statement

Permanent marker (black)

Highlighter

Ruler

Copy machine