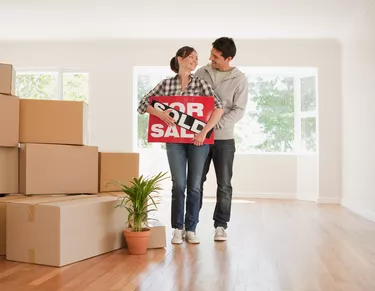 A home is officially considered as sold when the home's seller no longer has ownership. The sale date of property is when the money has been paid, the property's deed is legally recorded and the home buyer has possession of the deed. Knowing what that date is can be important for buyers and sellers for a variety of reasons. One might want to know how much the house last sold for or if it is still on the market, for example. Others need to find out because they cannot remember the date that they purchased their homes.
The writers at Sold Nest explain the home selling process, from hiring an agent to the sale date of property. Once the right real estate agent is found, a listing agreement is signed. Some home sellers will decide to perform some repairs and get the property ready for the market in other ways during this time. The house will be priced and entered into the MLS, the database that agents use to list their properties. This information is then shared with property websites.
There are many of these sites out there, and it is wise to consider the top 10 property websites when buying or selling. These include Realtor.com, Zillow, Trulia and Redfin. The experts at Clever also like Homes.com, HomeFinder, Clever Real Estate, ForSaleByOwner, Niche and Auction.com. Most of these include the last sale dates of properties.
Once the home is listed, the promotion stage begins. Sellers and agents hold open houses and advertise the properties on websites and social media. There can be few or many private showings; if things are not moving along as hoped, there can be price reductions, changes to closing dates and other strategies used. When an offer comes in, there may be a long or short negotiation phase, followed by an agreement and a closing date. The sale is finalized on that day.
Where Can I Find a Sell Date?
The fastest way to locate a property's selling date is to look at some of those top 10 property websites, but not every listing includes this information. You simply enter the address and scroll down to look for the details. You can also try contacting a real estate agent, as they can look this up on the MLS.
If neither of these proves fruitful, The Nest recommends contacting the local tax assessor's office. An employee there may be able to locate the information, or you may be able to log onto their website. There may be a charge for this, especially if the home is older. If this too fails, you may be able to search property deed records at the appropriate county courthouse
About Real Estate Closings
A lot of work goes into real estate closings, and buyers and sellers are usually relieved once these days are over. Both sides and their agents (and lawyers, if participating) must bring the proper documentation for things to move along smoothly. The lawyers at Nolo.com share a list of the most important things and checking this in advance is a good idea.
The most important item for the buyer is the purchase funds, and bringing some extra is also smart. Both sides need to bring a photo ID, even if it is a cash purchase. Other things include divorce orders, separation agreements and revocable living trusts, if applicable. Some closings also require documentary or transfer stamps for tax purposes. If there is a loan being taken out, there will need to be proof of insurance; participants may also need proof of pest inspections and lien waivers.