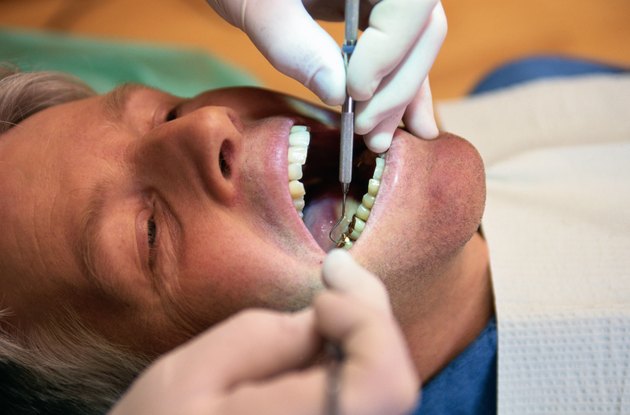 Forty-six percent of the U.S. population does not have dental insurance, according to figures released by the National Association of Dental Plans. Whether individually purchased or employer-sponsored, three types of dental insurance exist, each varying in cost and benefits.
DHMO
Individual coverage through a Dental Health Management Organization averaged $13.50 per month in 2011. DHMOs are excellent for preventive services, usually covered at 100 percent, but tend to limit the types of major and restorative services by either paying less (50 percent) or not covering at all.
PPO
ABC News reports that in 2011, the average cost of PPO dental insurance was just under $25 monthly. PPO plans pay a set price for "preferred" doctors within their network at a set percentage, most commonly 100 percent for preventive services, 80 percent for basic services and restoration, and 50 percent for any major service such as root canals and crowns. Plans vary and you can negotiate a lower monthly premium by trading away some coverage.
Indemnity Plans
Indemnity plans, also called "fee-for-service" plans, are the traditional insurance types, rarely available for individual purchase and provided mostly by large companies. The average premium is $40 per individual on a monthly basis, and services are covered at any dental practice, allowing more freedom to pick and choose providers. Coverage amounts vary and annual benefits paid out of such plans are usually capped at $2,000 per year.
Waiting Period
Many plans will have a mandatory waiting period, sometimes up to a year, before treatment can begin. This means that you will be paying the premium each month for a year with no access to benefits.
Limitations
While a dental insurance plan serves to save money in the long run, the schedule of benefits must be clearly understood. With "missing tooth clauses" that prevent replacement of teeth extracted before enrollment and other treatment limitations, the monthly premiums may not be worthwhile if a plan doesn't cover the services you need.