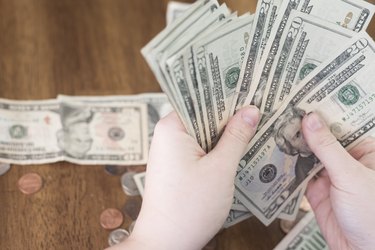 According to its website, CareCredit is "a personal line of credit for health care treatments and procedures for your entire family, including your pets." CareCredit is similar to a credit card, but has distinct differences. One difference is with CareCredit is you cannot receive cash advances.
About CareCredit
As a subsidiary of the General Electric Money Company, CareCredit offers financing for health care services to 7 million people through a network of more than 100,000 providers. Founded in 1987, CareCredit provides financing primarily for dentistry, vision correction, veterinary medicine, hearing care and cosmetic treatments. It can be used as payment for these services when not covered by your insurance company or to bridge situations where the desired care exceeds your health insurance coverage.
Like a Credit Card
CareCredit works in some ways just like a credit card. Based on your credit history, you are offered a revolving line of credit that can be used repeatedly for any family member. There are no interest plans for 3, 6, 12, 18 or 24 months when the required minimum is paid each month. You also have the option of extending the plan with interest being charged for 24, 36, 48 or 60 months. If approved, you will be provided with a card that you can use at any participating network provider.
Different From Credit Card
CareCredit is for the sole purpose of covered healthcare costs. In this regard, it differs from a credit card. You cannot use CareCredit to purchase clothing, food, airline tickets.
Other Options
If you are looking for a card that offers you benefits such as frequent flyer miles, hotel points or a percentage of your purchases earning you cash back, look for a quality credit card that offers the perks you are looking for with a low interest rate. If you have excellent credit, look for a card with no annual fee. There are also cards for people who are trying to re-establish credit. As with any financial decision, always do your homework and consult a professional if you need assistance with making sound financial choices.