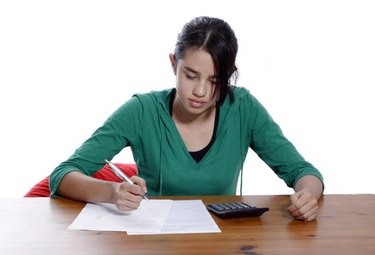 Every year Americans pay income tax the federal government. If you don't pay your tax bill, the Internal Revenue Service (IRS) will issue a tax lien against your assets which can include your car, home, and even your bank account. The IRS will send you several notices of your tax liability, however, if you would like to request a copy of your personal IRS transcript which details the tax lien, there are two options available. You can call the IRS or request a copy by filling out Form 4560T.
Step 1
Navigate to IRS.gov and download Form 4560T (Request for Transcript of Tax Return). There are no fee charges for transcripts.
Step 2
Enter your information in the spaces provided. You will need your Social Security number (or Employer Identification Number). The rest of the form should be filled out with the same information you provided on your income tax return. This will depend on your filing status as an individual, married, partnership, corporation or some other legal entity.
Step 3
Sign and date the form. Mail or fax Form 4506-T to the address listed on the Form for the state you lived in when your income tax return was filed. There are two addresses: one for individual transcripts and one for all other transcripts.
Step 4
Call 800-829-1040 to request transcript through the IRS automated line. You will need to provide the same information provided on the form. You should receive the transcript in two weeks.