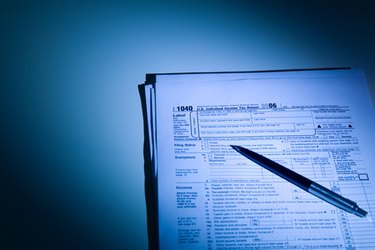 The Internal Revenue Service (IRS) provides free transcripts of your past tax return information. If you need a transcript, you can order by phone or mail from the IRS. You can get either a tax return transcript or a tax account transcript. A tax return transcript shows the majority of line items as you originally filed it. It does not show any changes that you or the IRS may have made to it. A tax account transcript shows later changes after the return was filed. It, however, only shows the basic information, such as your marital status, adjusted gross income and taxable income. The transcripts are available for the current year and the past three years.
Step 1
Call (800) 829-1040 to request either type of transcript by phone. Follow the prompts on the message to order it. You will receive a tax return transcript within 10 business days. A tax account transcript can take up to 30 days. To process by mail, see Step 2.
Step 2
Visit the official IRS website to find the form you need (see Resources). Download and print out the necessary form.
Step 3
Fill out Form 4506T-EZ if you are an individual taxpayer looking for a tax return transcript. You must have filed a 1040-series tax return. The title of the form is Short Form Request for Individual Tax Return Transcript (see Resources).
File Form 4506-T, the Request for Transcript of Tax Return, for a business, partnership or if you are an individual in need of a tax account transcript.
Step 4
Mail in the form to the IRS address listed for your location.
Tip
If you need a copy of a previous tax return, you must pay $57. It also will take a lot longer to get it. File Form 4506, the Request for Copy of Tax Form, and mail it in (see Resources). They are usually available for the past six years.
Things You'll Need
Request for Transcript of Tax Return Form

Short Form Request for Individual Tax Return Transcript