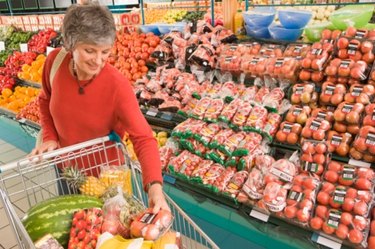 One of the time-tested ways to make a grocery list for the week is by perusing your favorite grocery store's circular, then making a menu from the offered specials. If you want to save money, you might even want to browse multiple stores' sale papers. Arm yourself with financial information by scoping out the sales and specials before you go grocery shopping. Browse your favorite store's circular every week and you'll end up saving money.
Step 1
Stop in your local grocery store and pick up a flyer. If you are driving past the store or happen to be in the neighborhood, this is a convenient way to find out about the sales. While you're in the store, go to the customer service counter and ask where the flyer is available outside the store.
Step 2
Subscribe to the local newspaper. Many grocery stores include copies of their flyer in the local paper, as these newspapers are specific to neighborhoods, just as the stores are. Read the inserts before you make your grocery list.
Step 3
Find the store's website. Almost every grocery chain has an online presence with, at minimum, a copy of the weekly circular. Many sites offer printable coupons, recipes and customer reward information.
Tip
Always check the date on a store circular before. You may be looking at an old sales paper without knowing it.