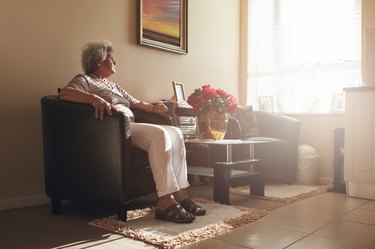 Many retirees want to live the good life without breaking the bank. To ensure stable and affordable housing, retirees may consider relocating to a cheaper town to live out their golden years. But finances aren't the only factor influencing retirement decisions. Retirees also must consider intangible costs and variables before moving, such as proximity to loved ones, health care and lifestyle amenities. A financial advisor is the best resource for finding and funding your dream retirement location.
Some States Offer More Tax Breaks
Certain states are more retirement-friendly due to generous tax laws. States with relatively tax-friendly rules give retirees tax breaks on:
Alaska

Florida

Nevada

South Dakota

Texas

Washington

Wyoming

However, state taxes shouldn't be the only criteria to consider when looking for a cheap place to live. For example, Kiplinger's 2014 survey of the top 10 tax-friendly states for retirement left out Texas and Washington from its rankings in favor of Delaware, Louisiana, Georgia, Mississippi and Arizona.
Consider the Cost of Housing Across the Country
Whether planning to buy or rent, choose a place with an attainable price point for your retirement budget. Places with the most favorable weather or the most excitement and attractions don't work for all retirement budgets. For example, Hawaii had one of the country's highest median home values -- $538,500 -- as of the time of publication, while the median home value in the United States was $178,400, according to real estate data website Zillow. Retirees should also consider median home prices relative to the state in which they plan to move. For example, despite its tax-friendliness and fine weather, Florida is also a pricey place to live, with the exception of its central region, according to financial advisor Linda Lubitz Boone.
When Renting in Retirement
Retirees may choose to rent, rather than buy, a home as a way to save money in retirement. High rents typically follow in high-value, high-priced real estate markets. A retiree who plans to rent a home should seek cheap rental housing, as this can mean the difference between a luxury condominium with recreational amenities for its residents, or a bare-bones apartment that offers the minimum in maintenance and repairs. According to Zillow, the median rental price was $1,550 at the time of publication. However, a 2014 ApartmentGuide survey of the country's cheapest places to rent found 11 cities where rent prices were approximately one-third of the national median.
Wants vs. Needs and Trial Runs
Weigh the wants and needs of retirement before settling on a place to live. A financial advisor can help prepare a budget that allows a retiree to afford a certain type of housing by reducing or eliminating certain lifestyle wants, such as lots of travel, having more than on vehicle, or an expensive town or city.
Whether moving across town or across country, try the place out before committing. ThinkAdvisor.com recommends renting short term -- six months, or so -- to get to know the area a retiree is considering for permanent relocation. This can allow retirees to weigh the pros and cons of a particular place or type of housing before giving up their current homes and making the leap into retirement living. It can also help them determine the actual costs of living, which can also impact their ability to buy or rent in the area.