Walmart employees can purchase company stock in one of two ways: through payroll deductions or from a broker. Stock purchased through payroll deductions is known as associate stock. Current and former Walmart employees can sell their associate stock online or by phone at any time.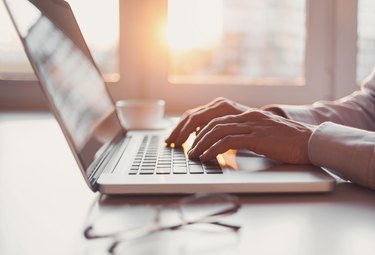 Associate Stock Purchase Plan
Full-time and part-time associates are eligible to purchase associate stock through payroll deductions. Walmart matches all purchases you make through the Associate Stock Purchase Plan, up to 15 percent of the first $1,800 you spend on stock each year. If you wish to check your portfolio or clear up any questions you may have before selling your stock, call the Walmart Participant Service Center at 1-888 968-4015. Customer service representatives are available Monday through Friday between 9 a.m. and 7 p.m. Eastern Standard Time.
Sell Stock Over the Phone
Call Computershare, Walmart's transfer agent, at 1-800-438-6278. A customer service representative will ask you to verify your identity, which may include providing your employee identification number along with your Social Security number and date of birth. Advise the representative that you want to sell your associate stock, how many shares you wish to sell, and how you want the proceeds distributed. Make sure Computershare has your current mailing address if you request funds to be sent by check. To have the funds direct deposited into your bank account, provide your bank's routing number and the checking or savings account number where you want the funds deposited.
Sell Stock Online
Visit www.computershare.com/walmart to log into your shareholder account. Click "Login" button in the Associate Stock Purchase Plan category box. On the next page, select SSN/SIN as your login type from the dropdown menu. Then enter your User ID and PIN/Password underneath_._ Your User ID is your Social Security number without dashes. Your PIN is your birth date in the MMDDYY format. For example, if your date of birth is June 1, 1950, enter 060150 in this field. If you changed your PIN after the initial setup of your online account, enter your chosen PIN instead of your date of birth. Next, select the "sell shares" option, then number of shares you wish to sell and how you want the funds disbursed.
Turnaround Time
Regardless of whether you sell your associate stock online or by phone, your sell request is processed the same day, unless the market is closed. If market is closed, your shares are sold the next day when the market reopens for business. If you requested payment by check, it can take up to 10 business days to arrive by mail, while electronic deposits take an average of two to three business days.