Buying appliances with poor credit may be challenging, but it is not impossible. Poor credit scores affect how much an individual may borrow and how much interest they will pay. However, poor credit does not automatically mean that a person cannot borrow money. Two options available to buy appliances with poor credit including getting a store credit card and renting to own.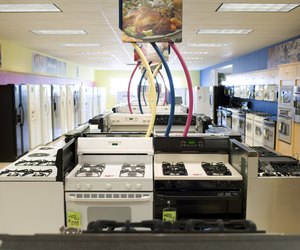 credit: Creatas Images/Creatas/Getty Images
Store Credit Cards
Step
Visit the store you would like to buy an appliance from.
Step
Approach a sales associate for the store and tell them you would like to apply for a store credit card to purchase the appliance.
Step
Fill out the application at the store. The sales associate will process your application on-the-spot and tell you if you have been approved. You will find out how much you have been approved for, what your interest rate is and how much you will be expected to pay on a monthly basis if you decide to purchase an appliance with your store credit.
Rent to Own
Step
Visit a rent-to-own store such as Rent-A-Center. Visit either in person or online.
Step
Choose the appliance you would like to buy.
Step
Fill out an application for credit with a store associate or complete the online application.
Step
Learn if your application has been accepted and what the terms are. If you are approved you will learn how much your monthly payments are and how long you will have to pay them before you own your appliances.