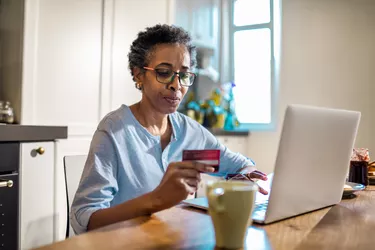 Kay Jewelers got its start selling quality jewelry in Reading, Pennsylvania, back in 1916. Since then, the company has grown in popularity, adding over 1,000 stores across the United States. Kay.com even offers virtual consults and online purchasing with in-store pick-up. Customers who are in the market for a large purchase, such as an engagement ring, will want to consider Kay's LONG LIVE LOVE Credit Card, as it comes with many perks and a budget-friendly repayment plan.
When you opt for the LONG LIVE LOVE Credit Card, you'll have access to a host of attractive benefits. Not only will you receive a special offer on your birthday, but you'll also get one on your anniversary as well. The company runs several sweepstakes each year that credit card holders can enter. Of course, the biggest perk of owning a Kay Jewelers credit card is the special financing.
As long as your purchase exceeds $500 and you put 20 percent down on your purchase, you'll qualify for zero percent interest financing for the first 12 months. It's important to note that if you don't pay the balance in full by the end of the 12 months, you'll incur the interest charges from the date of purchase. If you're planning on making a bridal purchase, you can take advantage of the 36-month special financing. This offer doesn't require any money down, but the purchase price must be at least $3,000.
Kay Jewelers Credit Card Application
The first step in applying for the LONG LIVE LOVE Credit Card is to head to Kay.com and click the "Get Prequalified Now" link in the upper right-hand corner of the screen. Next, click the pink "Get Qualified Now" button. From there, you'll need to sign in to your Kay account using your previously created login information. You can also log in using your Google or Facebook account. If you don't have an account, you'll need to create one in order to continue.
Once you get to the Kay Jewelers credit card application, you'll need to be prepared to fill out your personal details. This includes your name, address, phone number, Social Security number and financial details. Simply follow the prompts, enter your information and review the terms and conditions. Afterward, click the "Submit Application" button. In most cases, you'll know whether you're prequalified in as little as 60 seconds.
Since the process only prequalifies a customer, you may be asked to provide supporting documentation for the financial information you entered on the Kay Jewelers credit card application before being officially approved and issued the credit card. You can log in to the website and check on the status of your application at any time.
Credit Card Payments and Questions
Once you receive your Kay Jewelers credit card, you'll need to know how to make your payments. This depends upon whether you were issued a card from Comenity Bank or Genesis. You'll find the contact and website information for each below.
Comenity Bank Cardholders: Call 855-506-2499 (TDD/TTY 1-800-695-1788) or visit comenity.net/kay.
Genesis Cardholders: Call 866-875-089 or visit 1kay.myfinanceservice.com/.
If you have any questions that can't be answered by the bank issuing the cards, you can contact Kay directly by calling 800-527-8029 any Monday through Friday from 9 a.m. to 10 p.m. ET, Saturday from noon to 10 p.m. or Sunday from noon to 9 p.m., or by writing Kay Jewelers, c/o Sterling Jewelers, Ltd., 375 Ghent Rd. Akron, OH 44333.
Additional Card Information
Unlike other store credit cards, Kay's LONG LIVE LOVE Credit Card isn't backed by Visa or Mastercard, which means you'll only be able to use it when shopping at Kay Jewelers. When not taking advantage of one of the card's special offers, you'll pay a minimum of 29.99 percent APR on all purchases that are not paid in full at the end of the billing cycle.