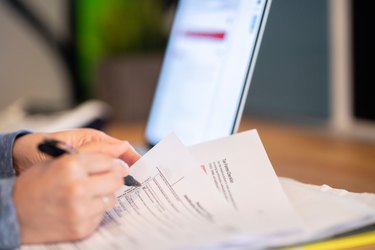 New business owners have a number of administrative steps to complete before they can open their doors to customers. Numerous state and city filings are necessary so the business can properly account for income, taxes and other legal, official matters. The administrative details are relatively simple and, if you are detail-focused, they can be completed in short order. Applying for a Missouri tax ID number is just one step on the path to a successful company structure.
Select an Appropriate Corporate Structure
Visit the Missouri Secretary of State website to determine if your company name is, indeed, available. Once you choose a company name and register with the Secretary of State, determine whether your business is a limited liability company, limited partnership, limited liability partnership or a corporation. The Missouri SOS provides a wealth of information for new business owners and serial entrepreneurs.
Obtain a Federal Tax ID Number
New businesses need a federal tax ID number, and you can apply for a federal Tax Identification Number (TIN) by visiting the IRS website. Even if your company doesn't have employees, you will need an Employer Identification Number (EIN), which is also referred to as an FEIN – a federal EIN. Thankfully, the IRS process for obtaining an FEIN is easy, and you will get your FEIN instantly upon completing the online application. This process requires just five minutes of your time, which puts you a step closer to actually conducting business.
Obtain a Missouri Tax ID Number
Once you have your federal tax ID number, proceed with obtaining your Missouri tax ID number. Online registration is the quickest way to get this important number, and it will save the time and energy you could spend by visiting the MO Department of Revenue office or calling a customer service representative to assist you. Of course, if you have difficulties with the online process, ensure you have the customer service number handy. The online process and customer service number are on the Online New Business Registration page.
Click "Start Registration Here" and the business registration process requires you to accept the terms and conditions. Terms and conditions such as confidentiality, disclaimer regarding liability and external links are relatively common for websites like this. They are necessary to protect both you and the State of Missouri from certain acts and website misuse that can result in fines and liabilities that could ultimately affect your business. Because some businesses engage consultants and lawyers to handle these types of administrative duties, the terms and conditions include statements regarding delegating this responsibility to someone outside your business. If you engage someone who does not have an ownership stake in your business to obtain the MO tax ID number, ensure that you have officially appointed the person to be an agent of the company.
"Submitter Information" is the next step in this process, and the submitter must provide their full name and contact information. The following page requires information about the business, such as the business ownership type, legal business name and mailing address. This page also requires that you disclose whether your business was previously owned by another person or entity. The final question on this page is the date on which your business was formed. Instead of using an approximate date or guessing, it's wise to use the date on which you incorporated to ensure that your filings are consistent.
If you maintain your tax records separately from where you customarily do business, provide your "Record Storage Address" in this online process. The likely reason that MO Department of Revenue requires this information is to ensure that you can easily access your tax records – and it needs to be a physical address, not a post office box or mail center.
The following steps in this process include inquiries about your business processes, employees and whether you are engaging in retail sales, leasing vehicles or purchasing or consuming jet fuel. The estimated time necessary to complete all the information for your Missouri tax ID number is approximately 30 minutes, provided you have at your fingertips all of your business information.
Securing Your MO Tax ID Number
When you get your MO tax ID number, create files where you store all of your company's business and administrative filings. If you have an accountant on retainer or a staff accountant, provide them and your legal counsel with copies of all business filings and ensure that they're safely stored and easy to access. Based on the type of business and the municipalities in Missouri where your business operates, you may need to provide proof of your tax ID numbers when obtaining occupational licensing.