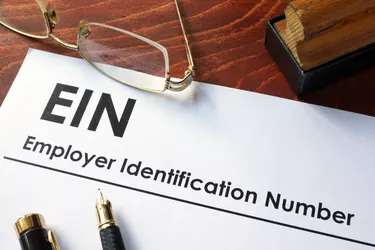 In North Carolina, an ID number can mean more than one thing. Normally, when this term is used, individuals are looking for their North Carolina tax ID number, also called an Employer Identification Number (EIN), so that they can properly file business paperwork and taxes. However, if you're looking for your driver's license identification number, it's the 12-digit number at the top of your driver's license, labeled as Driver's License Number (DLN). This can help you process registration and renewals online, as well as apply for an updated driver's license that can be used as identification when flying.
What Is an Employer ID Number (EIN)?
An Employer Identification Number, also known as a Federal Tax Identification Number, is assigned to any business entity operating in the United States when they file their paperwork to become a business. You can file for an EIN online with the IRS. Filing for an EIN is required if you start a small business or organization.
According to the IRS, you are expected to have an EIN if you have employees, operate your business as a corporation, file specific kinds of tax returns or meet a few other qualifying conditions. You'll also need an EIN if you're founding a non-profit.
You do want to make sure your organization has been legally formed before you apply for an EIN; the paperwork should all be completed and submitted with your application. You'll get the EIN immediately, and paperwork will be mailed to your house for your records.
In North Carolina, your organization will also be given a state tax ID number by the North Carolina Department of Revenue, explains the North Carolina Secretary of State. You can also submit this application on the NCDOR website. You'll need details about your business as well as the owner or responsible party, and it can help to have an EIN already to speed the process along.
Otherwise, your Social Security number can work as well. Submitting this application online will assign your state tax ID number immediately and will also mail a copy to the business address for your records.
NC State Tax ID Number Lookup
If you find you've misplaced your paperwork and it's time to file, there are ways to obtain your federal tax identification number. Check your records from filing and any bank accounts related to the business or licenses that might have the EIN listed. Tax paperwork from previous years will contain your EIN.
If you can't find any of these records or you just have more questions, you can call the IRS Business & Specialty Tax Line to work with an employee to find your EIN, explains the IRS. You will need to prove that you are an authorized person as stated in your organization's paperwork to obtain the EIN. It isn't possible for just anyone to search for an EIN for security reasons.
Your North Carolina state tax ID will be listed in similar places: records from filing, accounts related to the organization and previous years' tax documents. If none of these sources is available, call the North Carolina Department of Revenue general line and speak with a representative who can help you obtain the state tax ID. Again, for security purposes, you will need to be an authorized person according to your organization to obtain access to the NC state tax ID.