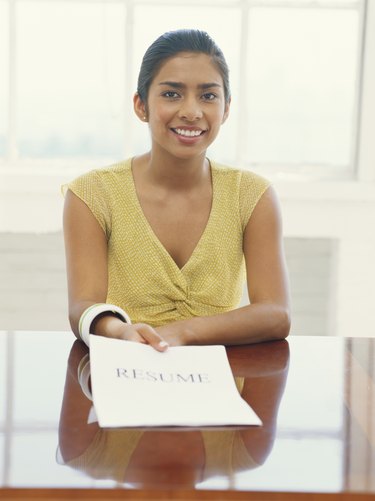 Crafting a resume can be challenging for both novice and experienced job seekers. Developing the style and format that attracts your target employers, using keywords that enhance your skills and abilities, and figuring out how to list achievements and certifications are common questions for many workers. Even if you're not currently looking for a job, you may want to update your resume to keep it fresh and up to date. A number of sources provide examples of sample resumes and templates – most of which are free.
Step 1
Visit a website that provides free resume samples such as Microsoft Office or Career One Stop. These sites aren't ad-supported and don't require registrations or trial periods. Most sites that offer free samples offer tips on formatting and allow you to view, download and customize a variety of resume styles.
Step 2
Use your computer's template gallery. If you have word processing software installed on your computer, such as Microsoft Word or Mac's Pages, you may have several free resume samples already available. Open your software and create a new document. Most software lists types of new documents you can create. From this list, choose a resume sample to view. If you're software doesn't provide a new document selection list, use the "Help" menu within the program and enter "Resume" into the search field.
Step 3
Visit your local library. The careers and business section at your library may have several resources that cover resume writing and job-hunting tips. These books often show samples of different resume types and explain which styles may be best for your professional goals. Most public libraries allow you to borrow books for two to three weeks.