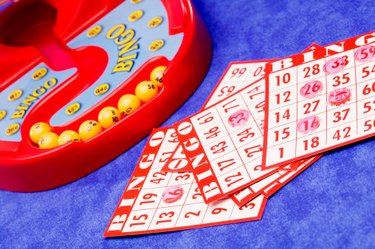 Bingo is a fun game to play with family, friends, for charity or in a legal business. It is a good choice for entertaining for people of all ages at events such as birthday parties and bridal showers. With a little effort, you can find bingo supplies, cards and equipment at lower prices and sometimes free.
Step 1
Determine what type of bingo supplies you need based on the games you wish to play. Make a list of the supplies you need, including: cards, bingo balls, cages and calling cards.
Step 2
Visit online bingo supplies and cards retailers for your shopping needs. Many discount stores specialize in Bingo supplies. You may receive a discount by buying all the bingo supplies from the same store.
Step 3
Shop at a novelty wholesaler if you plan to buy many bingo supplies, cards and equipment. The wholesalers sell to the public, charities, schools and to bingo businesses at wholesale prices. You will have to buy the minimum required quantities; however, the savings may be worth it.
Step 4
Making some of the supplies yourself. You can make bingo cards easily using software available online. You can make custom bingo cards and print them from your computer free.