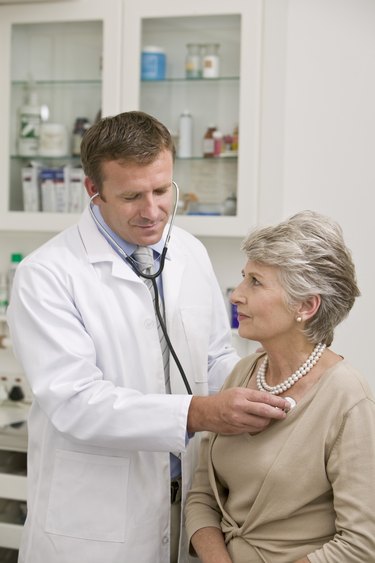 Kaiser Senior Advantage is a supplemental health care plan intended to give you additional health coverage beyond your current Medicare coverage. Kaiser provides coverage in California, Ohio, the mid-Atlantic region of the East Coast, including Washington, D.C., Colorado, Hawaii, the Pacific northwest region and Georgia. You qualify for an Advantage plan if you qualify for Medicare Parts A and B. The Advantage plans are considered to be Part C plans.
Qualify for Medicare
If you are 65 or older; under 65, but you meet some disability criteria; or you are under 65 and you already receive Social Security benefits, you qualify for the government Medicare program. This includes the Part A (hospital insurance plan) and Part B (medical insurance plan). If you're already receiving monthly Railroad Retirement Board or Social Security benefits, you automatically qualify for Part A. If you suffer from end-stage renal disease (ESRD), you must meet certain requirements before you can enroll for Kaiser Senior Advantage.
Reside in Your Enrollment Area
Kaiser Permanente provides coverage in several states. To qualify for one of the Senior Advantage plans, you must live in the service area where you apply. If you live in Maryland, Virginia, Ohio or Washington, D.C., you can only be enrolled in Part B to qualify for a Kaiser Senior Advantage plan.
Open Enrollment Periods
Medicare has imposed specific enrollment dates. The kind of plan you are seeking, your eligibility for Part A or Part B and the time of year affect when you can enroll. If you have just become eligible for Medicare, you can only enroll during the annual enrollment time period running from October 15 through December 7 of the year you become eligible. If you decide to make changes to your Medicare coverage, you can do so between January 1 through February 14 – known as the dis-enrollment period. You're able to drop your Medicare Advantage plan and go back to original Medicare, add a separate prescription drug plan if you switch back to Medicare and enroll in a Medicare Cost plan with prescription drug coverage.
Application Methods
Kaiser Permanent gives you three ways of enrolling for a Medicare Advantage plan. You're able to enroll online, by phone or by filling out a paper application and mailing it via the United States Postal Service. When you enroll online, your private information is secure. This enrollment method meets all of the privacy and security requirements of the Centers for Medicare and Medicaid Services. If you live in California, Kaiser Senior Advantage plans vary by county. Web sites for specific Kaiser Senior Advantage catchment areas (links in Resources) are available. Kaiser catchment regions include California, Colorado, Georgia, Oregon, Washington, Hawaii, Maryland, Virginia and Washington, D.C.