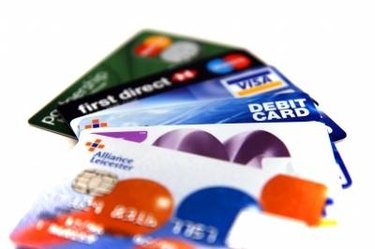 Perhaps you are interested in getting a new credit card that offers good benefits, like cash back or airline miles. Or perhaps you already have enough credit cards and want to check the information on your credit report to make sure that it is accurate. No matter what kind of credit card information you need, it is easy to obtain. You'll be able to find the best credit card for you, and you'll also make sure that the credit card information on your credit bureau reports is correct.
Step 1
Decide which features are most important to you in a credit card. If you carry a balance, that might be a low interest rate. If you want to transfer a balance, you may want a zero percent introductory offer. If you charge a lot and usually pay off your balance at the end of the month, you might want cash-back rewards. If you're a frequent flyer, you might prefer airline miles. Make a list of the features in order of their priority.
Step 2
Compare various credit card options. Some websites, such as Creditcards.com, break down offers by categories such as "low interest cards," "balance transfer cards" and "rewards cards" so you can quickly find the options that meet your needs.
Step 3
Call your current credit card companies, if you already have credit cards, before you apply for the new card and ask if they will match the offer. Often, credit card issuers will match another company's special offer in order to keep your business. If not, you can always apply for the new card and close out your other accounts.
Step 4
Get a copy of your credit report from each of the major credit bureaus (TransUnion, Equifax and Experian). By law, you are entitled to one free copy of your credit report from each of the bureaus on an annual basis.
Step 5
Compare the credit card information shown on your credit reports with your own records. Are the accounts and balances correct, and is your payment history accurate? Are any unfamiliar accounts showing up on the report, or is it listing accounts as open when they should be closed? Make a note of any discrepancies.
Step 6
Contact your credit card company to correct information regarding discrepancies that are directly related to the credit card company. For example, if you see an account that you don't recognize, call the company to make sure it is legitimate. If an account that should be closed is still showing as open, call the company to close it and ask for verification in writing.
Step 7
File a dispute with the credit bureaus, using their online form or sending it via postal mail, regarding other discrepancies. If your credit card information shows late payments or other negative items that are not correct, ask the credit bureaus to fix the errors. They have 60 days to investigate the dispute, so at the end of that time period get another copy of your credit report to make sure it has been corrected.
Warning
There are many websites that advertise free credit reports but force you to pay for an annual subscription to a credit monitoring service or spend money in some other way. You are entitled by law to get a copy of your credit reports each year at no cost, so make sure you use the official website to request your reports when you check your credit card information.