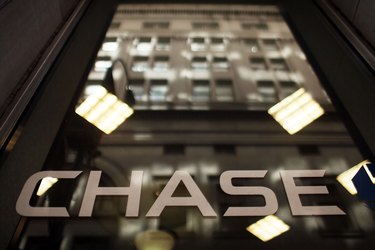 Tip
Remember that Chase also offers retirement accounts, credit cards, loans and certificates of deposit under separate applications. Once you establish a Chase checking or savings account, you will be able to apply for most products on the telephone.
Opening a savings or checking account with Chase Bank is a process that can often be completed entirely online. Those who wish to bank with Chase have a number of options for their savings or checking needs, including free checking accounts. There are also options for college students and those seeking money market options. High school students ages 13 to 17 who are sponsored by a parent or guardian can also bank with Chase, but will need to visit a branch in person.
Step 1
Visit the Chase website (see Resources below) and decide what kind of account you would like to open. Most people will likely choose the Chase Checking account. As of 2009, this account had no fees or minimum balance requirements when pay is direct deposited into the account.
Step 2
Select the "Open Now" function to activate your online application. As an alternative, you can use the website to find a Chase branch near you and visit the bank in person to fill out an application, make a deposit and open a checking and/or savings account.
Step 3
Provide Chase with the information requested, which includes your full name, current and past addresses, employment information, telephone number, date of birth and Social Security number.
Step 4
Make a deposit into the account online by transferring funds from a checking or savings account with another bank, or select the option to either mail in a deposit or visit a Chase branch with a deposit.
Step 5
Wait to receive your checks and debit card. This usually takes about 10 business days once your deposit is received.